Friday, April 23rd, 2010
Celina hosting state student council event
By William Kincaid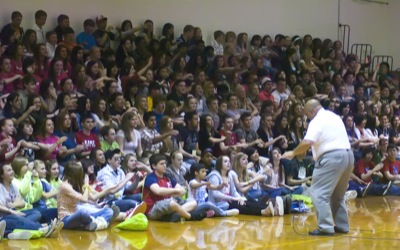 CELINA - More than 600 guests from throughout Ohio are in the city today as Celina High School is hosting the 2010 state conference of The Ohio Association of Student Councils (OASC).
In addition to the election of state student council representatives, the conference is designed to help students develop self-confidence; provide projects and ideas to be used in delegates' home schools, create new relationships and inspire motivation.
A throng of students were animated and in good spirits this morning as various speakers led them through cheers and jovial activities at the 57th annual conference.
"The planning took a lot of work," Celina High School sophomore student council member Kate Clausen said. "We all worked together equally as hard."
Fellow student council member Claire Schmitmeyer agreed.
"It's worth it," she said of the work, adding that she is particularly looking forward to the student council dance at Overdrive tonight.
Both girls said student council members put great effort into creating mini cardboard lighthouses given to visiting students, representing this year's theme of "Light The Way."
Celina student council advisor/teacher Wendy Mitchell-Payne said 515 student council members in grades 6-12 are being housed with various families in the communities and about 85 advisors have booked rooms at local hotels.
The three-day event includes national speakers, workshops, election assemblies and other sessions.
Mitchell-Payne said the students began preparing for the event last year after Celina was selected.
Although most schools apply three years in advance, a spot was open last year for 2010 because the bid from Revere Middle School near Cleveland was incomplete. Celina student council members jumped at the chance.
Thursday morning students continued to decorate and prepare the school for the throngs of outsiders.
Mitchell-Payne said she hopes the selection of Celina proves small towns can host events usually held in large cities.
The school received more than $5,000 from community donations, she said.
"We would like to thank the school administration and the community itself," she said. "Their generosity and support reminds us daily that Celina truly is one of the 100 best small towns in America."
Mitchell-Payne said many Celina students not on council helped with the event, including members of the football, tennis and basketball teams who helped carry luggage Thursday evening.
The conference - a boon to local restaurants, hotels and stores - will help expose outsiders to the area.
"We are proud and honored to host this prestigious event at Celina High School," Superintendent Matt Miller noted. "Our students ... have worked tirelessly over the past several months to make this memorable event special for you."
While the conference is being held today, about 700 Celina high school students are participating in the first annual service learning day, organized by Celina High School Dean of Students Bryant Miller, English teacher Emily Harner and High School Principal Jason Luebke.
The high school building, as stipulated by the OASC, must be vacated of any normal school activities on the day of the conference, so it was a great opportunity to send students out to do community work, according to high school Principal Jason Luebke.