Saturday, April 24th, 2010
Celina students take part in service learning day
By William Kincaid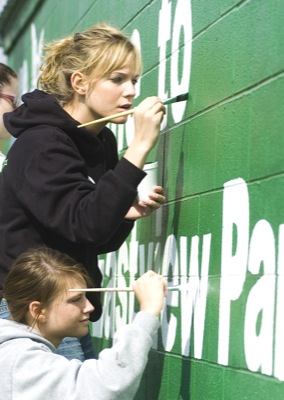 CELINA - Civic and community engagement was practiced outside of Celina High School on Friday as 700 students worked on projects at parks, nursing homes and other places.
"I think it went excellent," high school teacher Dave Scott said of the school's first service learning day.
Scott, who was supervising a group of students mulching and picking up branches at Celina's Eastview Park, said he was pleasantly surprised with the attitudes of the students.
"Surprisingly good," he said about their efforts.
A group of students mulching at the park - Alicia Slusser, Darrell Martinez, Joshua Resse and Cody Adkins - all agreed the idea of a service day is good for the community.
"I know how to do this (mulching) because by dad had a business when I was younger," Martinez said.
The mulch and necessary equipment were provided by the city.
Students were given a few categories of the type of work they wanted to do, but ultimately school administrators assigned students to projects, according to High School Principal Jason Luebke. Students of different backgrounds and grade levels were grouped together, he said.
Two students in another group picking up branches at the park said the event was positive.
"We did some good stuff today," Brandon Jenkins said.
Jenkins said students didn't have to work too hard because their groups were large.
On the back of one of the city's baseball diamonds facing state Route 29, art teachers Kathy Place and Amy Sutter and their students painted a mural of a fierce bulldog.
Place said she was happy everyone driving into the city will see the school mascot.
"The city is the one who said they wanted a bulldog," Place said.
"I really like it," said student Miranda Fiely, who helped paint letters.
Other students agreed.
"I think it was a lot of fun," student Dixie Hucke said of the project.
Celina Public Works Superintendent Joe Wolfe helped supervise the various student activities in the city Friday.
"It was great," he said. "The kids, I think they enjoyed it. They got the day off school to do something different."
Around 50 groups of students engaged in multiple community service projects, which included landscaping, visiting residents in nursing homes, trash cleanup, painting and car washing.
"The vast majority of the jobs we're doing are requests or suggestions (from the community)," Celina High School Dean of Students Bryant Miller said.
"I think the community really stepped up with coming up with things to do," Luebke added.
Pictures from the day will be posted on the Celina City School's Web site at www.celinaschools.org, click on the high school link and then select Celina High Bulldog Blogspot.
"We hope to continue next year and the years on," Luebke said.
Miller believes service learning day is a great addition to the high school curriculum.
"From my perspective, this isn't something we can teach in the classroom," he said. "It's an extension of the classroom."