Wednesday, April 7th, 2010
Texting bill needs tweaking
By Shelley Grieshop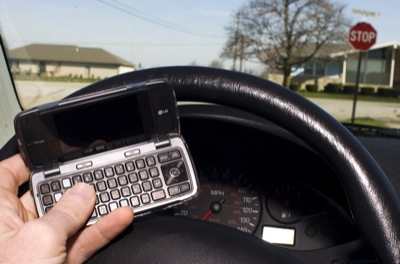 Pending Ohio legislation to ban text messaging while driving isn't thrilling supporters or opponents.
Most agree that texting and driving don't mix. However, the law has too many exceptions, ignores dozens of other actions that impair motorists and would be tough to enforce, officials told The Daily Standard.
House Bill 415 - passed by the Ohio House on March 24 and under review by the Senate - would outlaw drivers from reading, writing or sending text messaging on a mobile communication device. Violators could face a maximum $150 fine.
The House version states texting while driving is a "primary" offense, meaning law enforcement officers could cite drivers without any other traffic offense taking place.
Several Ohio cities have passed similar laws. Columbus did so Monday and the ban goes into effect May 5.
House Rep. Jim Zehringer, R-Fort Recovery, voted for the bill but admits he has reservations.
"I voted for the texting ban after listening to both sides of the story, including the parents of a child who was killed by a driver that was texting," he said, and added "this will be very difficult for law enforcement to enforce."
Officers must see a driver reading, writing or sending a text message inside a moving vehicle, the bill states.
Zehringer said there's no doubt texting while driving is an unsafe action for everyone on the road. It can take four seconds to read or send a text - enough time to travel the length of a football field with your eyes off the road, he noted.
Two years ago, a 29-year-old Celina woman drove her car off state Route 703 near Staeger Road while texting. She wasn't seriously injured but her car struck a natural gas line and disrupted service to numerous homes and businesses.
The woman told sheriff's deputies, "I was driving down 703 and I started to send a text. When I looked up, I was driving in the dirt and running through a field. I then hit a pipe."
Zehringer believes the proposed law overlooks other risky behaviors performed by drivers.
"Talking on a cell phone, putting on make-up and doing a crossword puzzle are still legal," he said.
All drivers need to take personal responsibility for their actions, he added.
Brian Wynk, a 34-year-old Celina resident and certified public accountant, agrees texting while driving is dangerous. But he doesn't think it's appropriate for the state to sanction an individual solely on an action without regard to whether or not that particular action violates another person's rights or property.
"As a general rule of thumb, if I had to choose between state-sanctioned laws and regulations or liberty and self-government, I would always choose the latter," said the married father of two children.
The University of Dayton grad said his concern is that the proposed law "attempts to regulate the minute details of our lives."
Mercer County Sheriff Jeff Grey said the pending law includes too many exclusions.
"I think the idea is good, but I don't like the exceptions to it," he said. "The exceptions make enforcement of the law extremely difficult."
There are nine exceptions to the House bill, including one that exempts "a person reading, selecting or entering a name or telephone number in an electronic wireless communications device for the purpose of making or receiving a telephone call."
Drivers could deny they were texting and insist they were performing a legal action such as selecting a name from their contact list, officials said. It would be difficult to disprove, they added.
Sgt. Rick Albers of the Wapakoneta post of the Ohio State Highway Patrol said the law is necessary. He hopes the state fixes its method of tracking accidents caused by cell phone usage for more accurate reporting. No specific area exists on crash reports and cell phone use is only noted if officers include it in the narrative. Citations currently note texting as "impaired driving," he added.
Albers, a Minster native, believes a law is the only way to fix the problem, especially for younger drivers.
"They have much less experience and are more likely to be texting," he added.
He hopes the publicity surrounding the issue helps educate the public.
"Things can happen in a split second. People need to be reminded to pay attention to what they're doing when they're out on the road," Albers said.

Texting laws:
• Although statewide cell phone and/or hands-free driving laws do not exist in Ohio, the legislature allows municipalities to institute laws. Texting bans have been passed in several cities, including Columbus, Cleveland, Toledo, and the smaller communities of Brooklyn, North Olmstead and Walton Hills.
• Twenty-one states, the District of Columbia and Guam currently ban text messaging for all drivers. Seventeen places make it a primary offense, allowing officers to cite drivers without any other traffic offense taking place.
• Nine states prohibit text messaging by novice drivers.
• Some states such as Maine, New Hampshire and Utah treat cell phone use and texting as part of a larger distracted driving issue.

- Shelley Grieshop