Saturday, May 1st, 2010
Parkway slips past Marion Local
By Gary R. Rasberry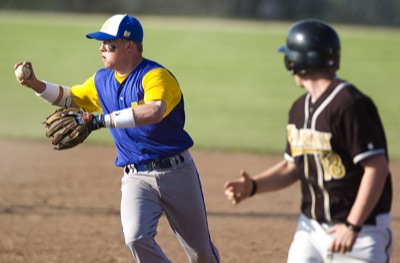 MARIA STEIN - Parkway jumped out quickly on Marion Local, only to have the Flyers roar back midway through the game.
Parkway got two runs late, which were enough to hold off the Flyers for the 9-8 win in Midwest Athletic Conference action at the Flyer Athletic Complex in Maria Stein.
The win evens the Panthers' conference record at 3-3 while Parkway goes to 7-9 overall. The Flyers drop their second straight conference game in as many days to go to 2-5 in league play and 8-11 on the spring.
Parkway did the bulk of its damage against Flyer southpaw Monte Imwalle, tagging the senior for six runs in two innings. Imwalle suffered an injury to his non-pitching shoulder in the second diving for a bunt. Imwalle finished the inning, giving up an RBI walk to Taylor Bates, an RBI single to Brandon Moorman and a two-run double to Jake Jackson before leaving the game.
"I should have got him out right then," said Marion coach Bryan Gray about Imwalle's injury. "Instead, he gives up that big inning. That's probably my fault on that one."
"I hope Monte's all right." said Parkway coach Mike Schumm. "He's a good kid and a great athlete. We hope he's all right.
Ryan Mescher came on to pitch in Imwalle's stead and settled down the Panthers, allowed just one run over the next three innings.
"He did an excellent job. He did everything I could ask of him," said Gray of Mescher. "He got into some tight spots and pitched out of it. Give the kid credit, (He was) not expecting to pitch today, but he was mentally prepared to come in and do a good job for us."
Mescher's work allowed the Flyers to cut their way into the Panthers' lead after leaving the bases loaded in the first two innings. Greg Wolters snapped Riley Bransteter's shutout with a three-run home run in the third to cut the Flyers' deficit to 7-4.
In the fifth, the Flyers sent eight men to the plate and scored four times to tie the game. With runners on first and second, Wolters grounded back to Bransteter, whose try for the force at third ended up in the Flyer bullpen, scoring Mescher and Jared Prenger to tie the game.
"To go down 7-0 and make a comeback like that, we could have rolled over pretty easy and start the weekend," said Gray.
In the top of the sixth, Parkway got a single from Jackson and a double from Jared Bourelle to put two on for Chris Brazle, who grounded to first to allow Jackson to score the tie-breaker.
Bransteter ran into trouble in the bottom of the sixth, putting two on with one out. Schumm immediately called on Bourelle, who promptly struck out Mescher and got Prenger to ground to first to end the jam.
Much-needed insurance came in the seventh. Cole Hamrick led off with a double. Bransteter came on to hit for himself and laid down a bunt. The throw to first was wild, allowing Hamrick to score from second to make it 9-7.
"A close game like this, you play for one run at a time," said Schumm. "You've got to get those runs in any way you can. Getting them to third base is real important. I thought the kids did a good job executing to get them to those positions."
The run was needed, as the Flyers staged one last comeback. Lee Pierron was hit by a pitch with one away in the inning. After John Elking struck out, Tucker Smith doubled in Pierron. Reggie Wendel followed with a walk, with Smith going to third on a wild pitch before Travis Winner looked at strike three to end the game.
"It was a big win for us," said Schumm. "Marion did a great job battling back and staying in the game. They've got a fine baseball team. They really do.
"I felt really good about our at-bats today. We made a couple defensive mistakes out in the field, but the wind had something to do with it. That was part of it. But we battled through it, and that's a good thing," added Schumm.
Hamrick went 3-for-3 with two runs scored for Parkway. Bates and Jackson added two hits each.
Prenger had two hits to pace Marion.
Parkway hosts Waynesfield in a doubleheader today. Marion Local is at Fort Recovery on Tuesday.