Wednesday, May 5th, 2010
Judge seals Franklin Twp. votes
Primary election
By William Kincaid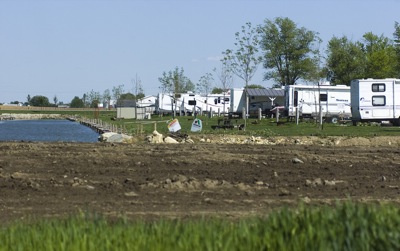 MONTEZUMA - Results of a Franklin Township referendum vote on Tuesday were sealed and unreported due to a last minute court appeal.
Some residents last year petitioned to get a referendum on the ballot that allowed them to vote on whether zoning changes approved by Franklin Township Trustees on Nov. 18 should stand. The changes allowed Rick Uppenkamp, of Mercer Development LP, to put duplexes and recreational vehicles on his land between Behm Road and Big Chickasaw Creek.
Six days before the primary election, Celina attorney James Tesno, representing Mercer Development LP, filed an appeal with the Third District Court of Appeals in Lima. Mercer Development is objecting to a decision in late February by Mercer County Common Pleas Court Judge Jeffrey R. Ingraham that allowed the referendum to be placed on the primary ballot. One of Mercer Development's objections is that there was one ballot issue, when the zoning changes were done in two ordinances.
Oral arguments on the latest appeal are scheduled for May 25, according to Mercer County Prosecuting Attorney Andy Hinders, who explained the situation to the media after polls closed Tuesday night.
Hinders also explained that before the appeal was filed with the appeals court, 22 Franklin Township residents had voted on the issue through absentee ballots. Since votes already had been cast, the appeals court ordered the board of elections to seal the ballots until a ruling is made.
In November, trustees approved changing an 18.8-acre parcel from medium density residential to high density residential and a 34.2-acre parcel from medium density residential to resort commercial.
In January, township residents submitted a referendum petition to the Mercer County Board of Elections, which approved placing the issue on the ballot. St. Marys attorney Jeffrey Squire is representing the petitioners. Tesno appealed the board of elections' decision to Ingraham, who sided with the board.