Monday, May 17th, 2010
Celina blows four-run lead in seventh
Division II Baseball Sectional at Elida
By Ryan Hines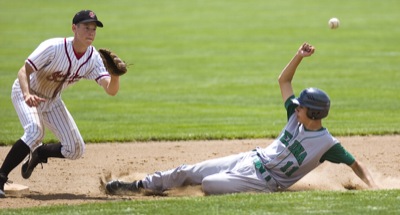 ELIDA - The Celina baseball team looked headed for a sectional title on Saturday with a four-run lead going into the bottom of the seventh inning with their ace pitcher on the hill.
However, Shawnee rallied to score five runs in the seventh inning to stun Celina, 5-4, in Division II sectional final action from Ed Sandy Field in Elida.
Shawnee's rally seemed very unlikely, considering that Celina's Darin Waterman had a one-hit shutout going into the final frame.
"Shocking is probably a better word than disappointing," said Celina head coach Drew Braun, describing the way his team was bounced from the postseason. "If I have the guy on the mound that I wanted with a four-run lead and his pitch count was within his boundaries, that game should be over
for us. I think we let the win slip away."
The Indians (19-8) advance to the Bluffton University District and will play Pemberville Eastwood on Thursday at 4 p.m. Wapakoneta (22-4) also advanced to the Bluffton District and will play Fostoria at 2 p.m. on Thursday.
Celina helped set the table for the Shawnee comeback as Waterman walked Bruce Roberts to start the seventh and then Virgil Ellett reached base on catcher's interference on a swing by Bulldogs catcher Caleb Shreves.
After Celina recorded an out on an infield pop out, Trey Runneal singled to load the bases before Austin Anderson ended the shutout with an RBI single.
Waterman rebounded with a strikeout for the second out, but then made a crucial mistake by hitting Drew Biss with a pitch when the Shawnee designated hitter already had two strikes. Hitting Biss forced in a run to make it 4-2 and then Waterman walked Clint Spencer to plate another Indians run while cutting the Bulldogs' lead to 4-3.
With the bases still loaded and two outs, Waterman got off to an 0-2 count right away on Shawnee's Garrett Black, but Black worked the count to 2-2 before ripping a walk-off two-run single to right-centerfield for a 5-4 Indians victory.
"Darin had us no-hit through five the first time that we played and he had another no-hitter going today through four. I think that we made some adjustments, being more patient on early pitches. Garrett is our three-hole hitter for a reason and he came through for us in a big situation," said Shawnee head coach Chad Spencer.
"That was a very uncharacteristic inning for us," said Braun. "Walk a guy, catcher's interference, get two strikes on a guy and hit him with a pitch....I feel like we aided them in their comeback. Now they got the big hits when they needed them there, but we certainly helped them a bunch by putting runners on base. How often do you see a catcher's interference? You don't hardly ever see that. I think the biggest play in the inning was when we hit a guy that had two strikes on him to force in a run and get to the meat of their order. We didn't want to get to Spencer and Black."
Shawnee was forced to play catchup for most of the game as Celina grabbed the early lead with a four-run second inning.
Kyle Markle got the rally started for Celina with a solo home run over the 345-foot sign in left-centerfield for a 1-0 Bulldogs lead. With two outs, Derek Waterman and Nick Legg drew walks before Josh Leonard and Kahl Knapke delivered RBI singles. The fourth Celina run scored when a Shawnee outfielder made an errant throw to the infield on Leonard's run-scoring single.
Following the four-run second frame, Celina mustered just two more hits the rest of the game as Ellett was in control on the mound. Ellett got the win allowing just five hits.