Tuesday, May 18th, 2010
Delaney excited for opportunity
By Gary R. Rasberry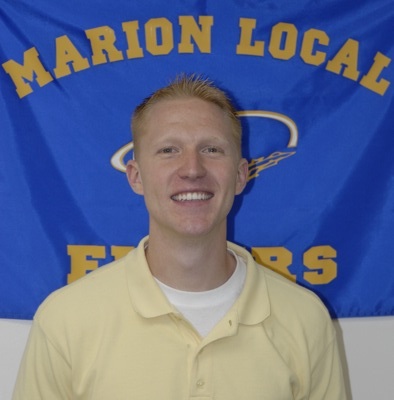 MARIA STEIN - Mark Delaney is a veteran of basketball coaching despite being a young man at the age of 28.
Delaney, who has served as an assistant on the collegiate level as well as at the high school level, got the chance to meet his team for the first time since being named the new Marion Local boys basketball coach last week.
"This is a huge opportunity," said Delaney prior to meeting the basketball team for the first time on Monday. "(Marion Local) has a great tradition. I'm humbled and honored to have this position here and to lead the athletic program and be a face of the school, to lead this basketball team."
Getting the chance to coach in the Midwest Athletic Conference is something that Delaney is excited to experience.
"I honestly think there's no better league, especially small-school basketball, than the MAC. From top to bottom, in all the sports," said Delaney. "I knew about it over in Mansfield. It's so strong and so prestigious. ... It goes on every year."
The Marion Local school district, made up of small communities like Maria Stein, Chickisaw, Casella and St. Rose among others, reminds Delaney of his alma mater, Clear Fork.
"It's the small-town atmosphere that my wife and I are familiar with and wanted," said Delaney. "Clear Fork has two communities - Bellville and Butler - that combine into (Clear Fork). We grew up in Butler, where there's just over a 1,000 people in the town. That was a big indication why we wanted to come to Marion Local."
Delaney graduated from Clear Fork in 2002, helping the Colts to the Division III state championship, scoring 16 points in the title game and earning the Outstanding Player of the Tournament award in addition to being named All-Ohio.
After college, Delaney served as a graduate assistant at NCAA Division II Northern State University in South Dakota, where he worked for Don Meyer.
Meyer, who survived a serious auto accident that resulted in the amputation of a leg, then was diagnosed with cancer, retired after this past season with 923 victories in his career.
"It was the best experience that I ever had, that anyone could ever have, around that man," said Delaney about coaching under Meyer. "He represents everything good about basketball. Just about being a mentor and being an ambassador to the game. All I did was take notes. He's a wealth of knowledge. I was behind him during the accident. We were all going to a retreat. I was the last car with the other (graduate assistant) and saw him swerve left of center and hit the semi. Then we saw him for an hour fighting for his life, just trying to breathe. He's the toughest man I've ever seen."
As for a style of basketball he'll bring to the Flyers, he is fairly open to anything.
"I definitely would like to get up and down the floor for sure," said Delaney. "But you always have to evaluate your players, what their strengths are, and put them in situations where they're going to succeed. Ideally, if I had the perfect team, I would love to press the whole game, get some transition buckets and score a lot of points. I think everybody's like that, though.
"I just first want to build a relationship with (the team) and go from there, then talk about basketball."