Thursday, May 20th, 2010
Panthers are peaking at the right time
Division III Softball District at Bath
By Ryan Hines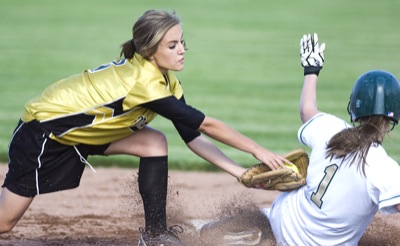 BATH TOWNSHIP - The Parkway softball team picked the perfect time to be playing their best.
Strong pitching, flawless defense and timely hitting carried Parkway to a 4-0 win over Evergreen on Wednesday in Division III district semifinal action at Bath High School.
"I told the girls after the game that this is the fourth straight game that we have played really well with pitching, defense and hitting," said Parkway head coach Mark Esselstein. "We got hits at the right time and it feels really good to move on to Saturday."
The Panthers (13-8) now play in Saturday's district final at noon against the winner of tonight's Fort Recovery/Archbold matchup. Evergreen, which also lost to Parkway 7-3 during the regular season, bows out of postseason play at 18-9.
Emily Crowell had a strong game for Parkway on the mound and at the plate. The Panthers' junior lefthander threw a complete-game shutout and gave up four hits while striking out five. At the plate, Crowell went 3-for-3 with two RBI.
"She (Emily) didn't hit her spots like she can, but she battled out there and made the pitches she had to make and got great defense behind her," said Esselstein. "She's a great hitter and made solid contact each time. The rest of the team draws confidence off her when she is able to hit the ball the way she did today."
"She pitched well, but I was more impressed with her hitting, she hurt us more at the plate," said Evergreen head coach Michelle Egan. "They have a great team and a great program. They deserve to move on with the way that they got timely hitting."
It was Crowell that helped Parkway dent the scoreboard in the third inning. Parkway nine-hole hitter Peyton Heitkamp was hit by a pitch and stole second base before Crowell lined an RBI double to left-centerfield that hit off the Evergreen centerfielder's glove.
With the way that Crowell was pitching on the hill, one run looked like enough for a Parkway win, but the Panthers immediately added insurance with a pair of runs in the fourth frame.
Brittany Bollenbacher drew a lead-off walk and Lindsay Shellabarger reached base with a one-out walk. Katie Art then lofted a fly ball down the rightfield line but the Parkway baserunners didn't advance due to a mental mistake.
Destinee Guggenbiller helped erase the baserunning miscue by lining a two-run single just over the first baseman's glove and into rightfield to score a pair of runs for a 3-0 Panthers lead.
"I really feel good for Destinee for coming through like she did in that situation," said Esselstein. "We made a baserunning mistake and didn't get a bunt down in that inning and Destinee came through with a big hit."
Parkway added another run in the seventh inning when Heitkamp was walked, moved to second on a wild pitch and scored on a Crowell RBI single.
All four of Parkway's runs came with two outs.
"I was tickled to death with our two-out hitting today," said Esselstein. "Girls stepped up with two outs and got the job done."