Friday, May 21st, 2010
Coldwater digs out of early hole to advance
Division III Baseball District at Elida
By Gary R. Rasberry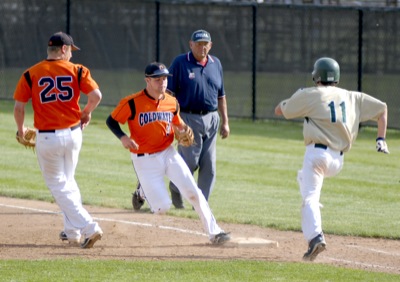 ELIDA - Coldwater was hoping to save ace pitcher Keith Wenning for Saturday's Division III district final.
But, a sluggish Cavalier start forced Wenning to take the mound to keep the team's hope for a third straight district title alive. Wenning shut down Evergreen over the final six innings as the Cavaliers advance with a 5-3 win at Ed Sandy Field in Elida.
Coldwater (24-2) now faces Bluffton on Saturday at 2 p.m. The Pirates beat Liberty-Benton 4-3 in Thursday's first game at Elida.
Coldwater coach Brian Harlamert hoped to save Wenning as undefeated Reese Klenke took to the mound against Evergreen.
Klenke, though, struggled by walking three of the first five batters as another runner reached base on a fielder's choice on a bad throw to second base. After walking in a run, Klenke was pulled for Alex Kramer, who promptly gave up a single to Kyle Pierce to drive in two runs to make it 3-0 before Kramer made it through the first inning.
"We have faith in Reese. He has to win one of these two games," said Harlamert. "He just couldn't quite get it going. You're hoping for AK (Kramer) to get in there and get an out, but he didn't, got two runs out of that inning.
"It's a long game. We were definitely sweating a little bit, but in the end, you have high school kids playing, not professionals. Maybe we thought a little too much about not going with K-Dub (Wenning)."
Wenning entered to pitch in the second and, as his coach eloquently put, "K-Dub was K-Dub when he had to be K-Dub".
Over the final six innings, Wenning only allowed a single to Trenton Shindorf in the fifth, who was then picked off as part of a lineout doubleplay. Wenning struck out eight batters in his six innings on the mound.
"He obviously dominated from his first pitch on," said Harlamert of the Midwest Athletic Conference Player of the Year, who improves to 10-0 on the mound the spring.
With Wenning clamping down on the Vikings, the Cavalier bats worked to find runs off Viking starter Ryan Salsbury. After getting a run in the fourth when Adam Rammel scored on a wild pitch, Coldwater cranked things up in the fifth.
Back-to-back singles by Colin Paynter and Kramer started things out and Chad Westgerdes reached on a one-out bunt single. Wenning then grounded to short and Westgerdes was forced out at second, but the throw to first was wild, allowing Paynter and Kramer to score to tie the game at 3-3.
Adam Rammel and Klenke followed with matching RBI singles to bring in the final two runs and chased Salsbury after 42/3 innings.
"We had nine hits and had six balls hit right at them, that's baseball," said Harlamert. "You can't come and expect at a tournament game to get 15 hits and score 15 runs all the time. ... You have to give credit where credit's due sometimes. (Salsbury) threw well for the first four innings."
Adam Rammel had two hits and scored twice for the Cavaliers while Wenning also had two hits.