Tuesday, May 25th, 2010
Jobs dropped to save city dollars
By Shelley Grieshop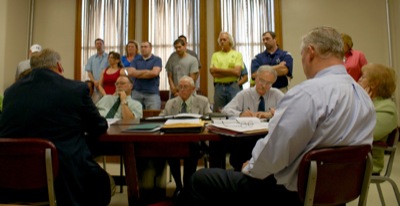 CELINA - In an effort to curb the city's bleak financial situation, Celina City Council members on Monday night abolished two full-time parks and recreation jobs.
The position of recreation office service coordinator, held by Donna Birt, is now classified as part time. Birt will be offered the new position, officials said. The job held by Chad Howell as parks maintenance crew leader assistant was abolished.
The action - approved on emergency measure - becomes effective May 31 and will save the city "in the neighborhood of $80,000," safety service director Rick Bachelor replied when asked prior to council's near unanimous vote on the ordinance. Councilman Ed Jeffries Sr. cast the only "no" vote.
Prior to the vote, Howell exchanged heated words with Celina Mayor Sharon LaRue. He questioned why the Bryson Trust Fund was not used for some of the city's maintenance needs, as it was originally set up to do. LaRue told him the trust can no longer be used for that purpose due to amendments through the years by its trustees.
Obviously frustrated, Howell lashed out at LaRue.
"If this town goes down, all the blame goes to the mayor," he said.
LaRue replied she would accept full responsibility if that were to occur.
Prior to making a motion to abolish the jobs, councilwoman Angie King became emotional as she addressed the two dozen-plus city workers in attendance to support Birt and Howell.
"This was a very difficult ordinance to propose. Nobody wants to see anybody lose their jobs," King said. "This is a small community, we're neighbors ... but as council members, we are elected to do a job. We are required by law to balance our budget."
King said current finances show that by January 2011 the city is "going to be short $1 million bucks."
"If we don't do our job, the state will do it for us," she added.
As council members passed the ordinance, about a dozen city workers in the council chambers rose to their feet to show solidarity.
Council members reviewed the number of employees in each city department and noted that other job classifications also are being reviewed for cuts.
"We have a huge gap to fill," said Bachelor, in reference to balancing the city's budget. "The longer we go, the bigger the gap gets."
Other areas besides jobs are being reviewed for cost-cutting measures, Bachelor said.
"We can't put it all on the backs of our employees," he added.
The city already has tapped $300,000 from a fire truck fund to meet expenses this year, officials said.
Bachelor said other cost-cutting measures are being discussed with the Celina Municipal Employees Representative Committee (CMERC) - the union representing firefighters, police officers and dispatchers. Proposals include wage freezes, offering employees a health savings plan instead of a traditional health insurance plan, holidays without pay and job buy-outs.
All the proposals would require negotiations with the CMERC, Bachelor said.
"We haven't got that far yet," he added.