Saturday, May 29th, 2010
Tide turning
One year after advisory, positive outlook returns to Grand Lake
By Nancy Allen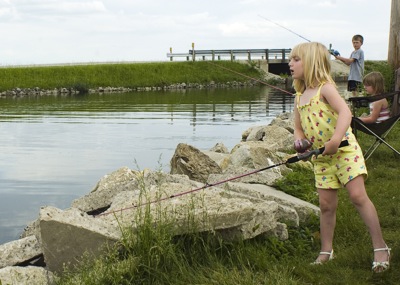 GRAND LAKE - With sunny skies forecast, local officials and business owners are predicting a busy Memorial Day weekend on Grand Lake.
"Everything is good right now," said Brian Miller, assistant manager of Grand Lake St. Marys State Park. "The lake is clear and fishing is good. The word is out."
And no one has yet called his office about the algae toxin.
It's been a year since the state placed a water quality advisory on Grand Lake due to high levels of microcystin, a toxin produced by the lake's blue green algae. The advisory was lifted in April. Area businesses and tourism officials said they were hurt by the advisory because people avoided the lake.
Donna Grube, director of the Auglaize & Mercer Counties Visitor's Bureau, said last year's tourism season was a "bitter pill to swallow," but she thinks this year will be different.
As devastating to the local economy as the water advisory was, she sees a silver lining because it drove community members to band together to find a solution.
The toxin announcement spurred the creation of a coalition of officials from Mercer and Auglaize counties who want to do something about the water quality. The group has raised more than $500,000 the last two months to test sediment removal technology in the lake and three creeks that flow into it. Two giant aerators were installed in bays at Southmoor Shores and Park Grand Resort (go to YouTube and type Airy Gator Grand Lake to see one operate). Three units called Collectors that trap sediment and nutrients before they get into the lake also are planned in the creeks, but have not yet arrived.
The agriculture community also has gotten involved, using federal conservation funds and grants to install practices on their land that reduce nutrient runoff.
Two large ag businesses also donated $75,000 to test the technology. Excess nutrients, such as those from farmland runoff, are what feed the lake's algae and make it grow.
Dan Manning, owner of The Outdoorsman, a hunting and fishing store in St. Marys, said he is looking forward to a good Memorial Day weekend.
"I think people are tired of it and they realize it (water advisory) was overblown," he said, adding that the entire U.S. economy also was to blame for poor business last year. "They're starting to get back to work and people are tired of pinching their pennies and they want to start living again and get back to doing things they want to."
He said fishing on the lake has been good. He mentioned recent catches of large northern pike and the biggest walleye (9 pounds) he's ever seen.
Miller said visitation to the state park has increased in recent weeks and all reservable campsites are booked for this weekend.
Deb Borns, owner of West Bank Inn, said her 14-room hotel is completely booked for the weekend, but added it was full last year, too. It was after the Memorial Day weekend that business dropped off due to a combination of the economy and the advisory, she said.
Like Manning, she believes the advisory was overblown.
"I think the algae toxin issue is way over exaggerated, but it was finally enough to get the state, federal and local people working together, so from that standpoint, it's positive," Borns said.
She is optimistic about this year's tourism season because she knows what to expect if the advisory is placed back on the lake. Officials say it is likely the EPA will post the advisory once the weather warms and the algae blooms again.
Fred Heckathorn was busy pressure washing the underside of a porch roof near some cottages he and his wife rent out along West Bank Road on Wednesday. Some visitors from Missouri are coming in, they said. Their cottages overlook the 9-mile long body of water, Ohio's largest inland lake.
The couple said much of their business comes from out-of-state travelers and they were not hurt financially by the advisory, but there were definitely fewer boats on the lake.
"Lake traffic was down. The boats weren't out there," Heckathorn said.
He thinks area folks are tired of avoiding the lake, the condition of which wasn't any different last Memorial Day than it usually is.
"I think it's going to be better this year," he said. "I think they got their fill of not using the lake and this year they're just going to use it."

Timeline:
July 2007-Nationwide lakes study performed
May 18, 2009-State draws water samples after study shows blue green algae toxin in Grand Lake. Samples have 48 to 82 parts per billion (ppb) - well over 20 ppb limit set by the World Health Organization.
May 22, 2009-State puts up signs warning people to limit their contact with the water.
June 6, 2009-150 people attend Lake Improvement Association (LIA) meeting in Celina; ask lawmakers to push for stricter nutrient management laws and complain of lost business.
June 16, 2009-Toxin levels at 13.9 and 23.3 ppb, but advisory continues due to quickly-fluctuating levels.
Aug. 11, 2009-Celina officials start using ultrasonificator to measure algae toxin levels.
Oct. 5, 2009-Grand Lake St. Marys State Park announces campground income dropped 18 percent for season, while most Ohio state parks saw an increase.
Nov. 16, 2009-Almost 200 angry lake residents attend meeting where state officials unveil a nutrient management strategy focusing mostly on 300 area livestock operations.
Dec. 5, 2009-Streamside Systems gives presentation on sediment removal technology at LIA meeting.
Jan. 29, 2010-Grand Lake Restoration Initiative forms.
Feb. 19, 2010-Grand Lake Restoration Initiative pledges to raise $500,000 to test sediment removal technology in the lake and three creeks.
March 4, 2010-Ag Quality Water Alliance (AQWA) forms to help farmers comply with environmental regulations.
April 5, 2010-State lifts water quality advisory after algae toxin levels drop below 20 parts per billion.
April 7, 2010-$1 million in conservation money is made available to local farmers.
April 30, 2010-Numbers reveal 20 percent drop in area tourism dollars from year before. Two aeration units begin operating in the lake.
May 18, 2010-Toxin levels range from 0.7 to 0.8 at three public beaches and 0.6 at Celina water plant intake pipe.
May 26, 2010-Initiative has raised $504,000. Goal reset at $600,000.