Saturday, June 5th, 2010
Local tracksters begin collecting medals
2010 State Track Meet
By Bruce Monnin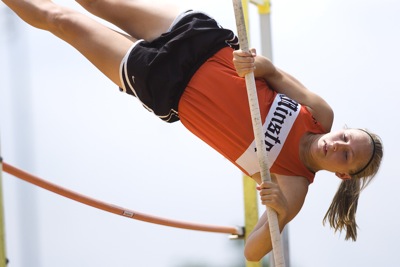 COLUMBUS - The Division III state track meet kicked off Friday with several local track athletes looking for a spot on the podium.
The local contingent represented the Grand Lake area well with some solid showings in Columbus.
Pole Vault
Last year, Minster senior Sarah Huelsman set her own personal record by clearing the bar at 10-4 to finish in fifth place. This year she improved by clearing 10-6, though it was only good enough to finish in 10th place.
Minster sophomore Kayla Wuebker was one of only four athletes to clear a height above 11 feet during regional meets last week and she turned in the best vaulting performance of her young career in Columbus on Friday.
She made the first seven heights she attempted on the first try, including an 11-3 vault that tied her personal best. She then missed her first two attempts at setting a new personal mark at 11-6, but cleared the bar cleanly on her third and final attempt to finish fourth.
"I thought I did great," related Wuebker. "But I was surprised that I made 11-6."
After watching three other vaulters outperform her, she began thinking ahead to next year, including thoughts of going to a longer pole if she can get her hands on one. She also started to think she could have done just a little better this year.
Coldwater's Trevor Kunk entered the event on the boys side with only the 15th-best effort during regional competition, clearing a top height of 13-0. Trevor again cleared 13-0, but missed all three of his attempts at 13-6 and ended the competition in 13th place.
Girls 3,200-Meter Relay
The day started off well for the Minster Wildcats when their girls finished fifth in the 3,200-meter relay, similar to the fourth-place finish achieved by the team the previous three years in a row.
The team returned three runners from last year's crew that made it to Columbus. Senior Jessica Albers was the lead runner for the team and had run at state in each of the previous three years. The field was very tight at the start and was so crowded at the end of the first lap that a competitor trying to pass Albers on the inside almost fell into the infield.
"There were elbows flying everywhere," described Albers. "It was pretty tight."
After Albers got the team started in eighth place, Minster freshman Hannah Butler blocked out the crowd and moved the team up to fifth with a strong late kick. Butler showed no signs of the freshman jitters she felt at the state cross country meet this past fall.
"I just blocked the crowd out and had fun," said Butler.
Sophomore Samantha Hoelscher took over next, feeling a little more at ease than she had the year before as she held on to sixth place during her leg.
"It was still nerve-wracking (running in front of the huge crowd)," said Hoelscher. "But I knew what to expect, unlike last year."
Junior Maria Dahlinghaus moved up to fourth place in the first 150 meters, but then going into the final turn, she was passed one by one until she was in the eighth position.
"I heard the herd coming behind me," admitted Dahlinghaus. "I was counting and started to worry if we would make the podium."
Dahlinghaus soon increased her own speed, passing three runners down the homestretch for the fifth-place finish.
Boys 3200-Meter Relay
The New Bremen boys also finished with the fifth-best time in this event, while setting a new school record by two seconds and improving on last year's 10th-place finish at state.
Senior Michael Travis completed the first lap in eighth position. He didn't seem to like being that deep in the pack, and moved up throughout the second lap until he was in fourth place.
"I get pumped when there is someone in front of me to pass," said Travis when asked about his improvement on the second lap.
"When someone passes you, it makes you want to go faster," added sophomore Elliott Westerbeck.
Senior Justin Eilerman moved up to third place after his first lap and then fell back to sixth by the end of his leg. Westerbeck also ended his leg in sixth place before handing off to junior anchor Dillon Webster.
Webster maintained his position for most of his leg, then put in a nice push at the end for the fifth-place finish.
Eilerman and Westerbeck were also members of last year's 10th-place relay team and Westerbeck thought the Cardinals handled running in front of the large crowd better this year.
"We all ran well. The crowd didn't seem as loud this year because we were used to it," explained Westerbeck.
The Minster boys came in with the 10th-best time in this event, and were hoping to move up a couple of spots to make the podium. However, the Wildcats' team of senior Eric Piening, sophomore Francis Slonkosky, senior Jacob Dirksen and junior Oliver Barga found the competition too quick, as they were quickly shuffled into the second half of the pack and finished in 13th place.
High Jump
Fort Recovery junior Holly Brunswick finished in a tie for eighth place in the girls high jump, clearing a height of 5-2 to just barely make it onto the podium.
It was the same height she had cleared at the regional meet last week but not quite as good as her season-best effort of 5-4 that she achieved at the Mercer County meet.
"It is pretty awesome (being on the podium), it is a very satisfying feeling," summed up Brunswick. "It feels like I am finally there. Getting onto the podium was my goal."
Don't be surprised to see Brunswick back on that podium next year. After being eliminated, she continued to study the remaining competitors along with her coach.
"I'll definitely be working on my jumping this summer," added Brunswick.
Junior Greg Schwieterman from Marion Local had a less satisfying day. After setting a new personal record of 6-8 in winning the district title two weeks ago, and clearing 6-6 last week, he was only able to successfully jump over the bar at 6-2 on Friday, which left him off the podium in 11th place.
Team Outlooks
The Division III girls' team competition appears to be Versailles' to lose. The Tigers are expected to finish with 61.5 points while no other school is expected to finish with over 35 points. The two teams that Versailles fans most need to keep watch on are Steubenville Central Catholic and Gates Mills Gilmour Academy.
Louisville St. Thomas Aquinas appears to be the slight favorite in the D-III boys team competition, with North Robinson Colonel Crawford and Steubenville Central Catholic hovering close by. Minster and New Bremen both appear to have a good chance to finish among the top 10 teams, but will not contest for the team title.