Wednesday, June 9th, 2010
Mariners top Rockets in rain-shortened game
By Gary R. Rasberry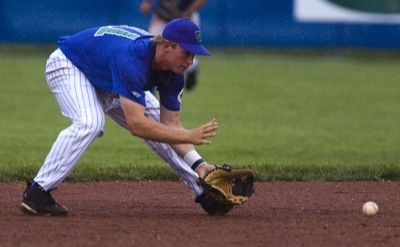 CELINA - The Grand Lake Mariners continue to win in the preseason, although Mother Nature helpe their cause on Tuesday
Three Mariner pitchers combined for a five-hitter as Grand Lake scored four times in its final plate appearances to post a 6-0 win over the Portland Rockets that was called after 4 1/2 innings due to the rainy conditions.
The Mariners have won three straight against the Rockets in the exhibition season going into tonight's final tuneup (vs. Geneva) before Great Lakes Summer Collegiate League play begins on Friday at Xenia.
With just 19 innings played so far, the biggest concern for Mariners manager Joe Marker is getting innings for pitchers and playing time for position players.
"That's what it's all about in these non-league games, to get a feel for everybody and trying to establish some type of rotation, some type of lineup," said the first-year Mariners skipper. "Hopefully we can get in another game tomorrow going into league play."
The pitching looked sharp on Tuesday. Chase Rihtarchik threw the first two innings, striking out five batters and allowed the only Rocket hit, a second-inning single by Coldwater graduate Riley Muhlenkamp.
Rihtarchik made sure Muhlenkamp was stranded on base by striking out the next three batters to close out his night.
Ross Gerdeman threw the next two innings for the Mariners, striking out three and facing the minimum of six batters. Jon Cisna came in for the fifth and allowed the only other Rocket to reach base when he hit Mike Ingram.
Cisna promptly got Brandon VanMatre to ground into a 4-6-3 double play to clear the bases and then struck out Cody Johnson to end the game as the rain picked up and the game was called off.
"At this point in the season, we need to get 7-9 innings in to get our guys some work," said coach Marker. "It was good to get out there, be able to play in these conditions and get five innings in. Once again on the mound, we threw pretty well."
The Mariners got single runs in the first and third innings, but cranked up the offense in the bottom of the fourth. Ryan Schlater singled to start the inning and Kevin Franchetti was hit by a pitch before Cale Marker drew a walk to load the bases.
After Patrick Harshman struck out, Schlater was forced out at home when pinch-hitter Cameron Stykemain grounded to the mound.
Coldwater grad Cory Klenke, who was 1-for-8 this season thus far, gave the Mariners a big hit by singling to right, scoring Franchetti and Marker to make it 4-0. Parkway alum Jensen Painter made it 6-0 in favor of the Mariners when his bloop single to left scored Stykemain and Klenke.
"We had a couple big hits, especially one with two outs," said coach Marker. "Cory had that big hit for us. We just have to keep moving guys and get them in scoring position and come up with hits. Cory was able to do that today."
Klenke scored twice on the night in going 2-for-3. Painter was the only other Mariner with a multi-hit game, going 2-for-2 with two RBI.
Hoying drafted by Rangers - Fort Loramie grad Jared Hoying, who was signed up to play with the Mariners this season, was selected by the Texas Rangers in the 10th Round of the Major League Baseball Draft on Tuesday.
Hoying, who completed his junior season with the University of Toledo this past spring, was selected with the 316th pick of the draft.
Former Defiance standout Tyler Burgoon was picked four spots earlier, drafted by the Seattle Mariners. Reigning Western Buckeye League Player of the Year Dace Kime of Defiance was picked with the 237th pick (eighth round) by Pittsburgh and Wapakoneta grad Brian Garman was taken with the 519th pick (17th round) by Milwaukee.