Thursday, June 10th, 2010
Johnson leads all 30 laps to win Eldora's Prelude
By Mike Ernst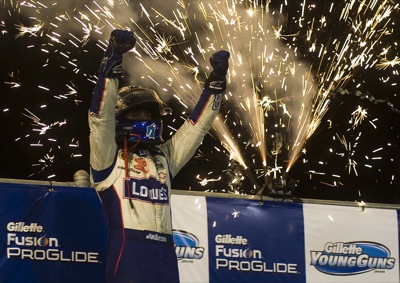 ROSSBURG - Four-time defending NASCAR Sprint Cup Series champion Jimmie Johnson may be struggling a bit on the pavement, but all is well for Johnson on the dirt in a late model.
Johnson led all 30 laps of the main event to pick up the win in the sixth annual Gillette Fusion ProGlide Prelude to the Dream charity event at Eldora Speedway on Wednesday night.
Kyle Busch pressured Johnson throughout the early and middle stages of the race and then Clint Bowyer, the owner of the dirt late model Johnson drove, applied pressure late but Johnson held on for the win.
"We tested a couple of times last year, and I think it screwed me up," Johnson said. "I just came here cold turkey and tried to go off of my memory, and it worked. The team knew what they wanted to do with the car through the course of the night with the setup, and Clint (Bowyer) was working with us and it just got better and better."
Bowyer was impressed with how Johnson, who was making only his third career dirt start, has adjusted to the cars.
"It's really cool to be able to have Jimmie in the car," Bowyer said. "He's a four-time champion for a reason and that proves it right there."
The race was slowed by 14 caution flags, mostly for harmless spins on the fast, high-banked, half-mile. The slow pace was a big factor according to Busch, who finished fourth.
"It was a fun deal. I really enjoy coming out here and running this race. It's just frustrating not being able to ever close one of these deals out," Busch said, who finished in second place in '07 and third last year. "I felt like, if it went green the whole way, I probably could've won. But they (Johnson and Bowyer) had different tires and a different setup that would really go on the short run and that really killed us."
Bowyer, who owns dirt late models that compete nationally throughout the year, took second from Busch after a spirited battle on lap 28 and tried to go after Johnson after the final caution with just two laps remaining.
"You know, it's cool to come home one-two," Bowyer said. "A lot of hard work goes into this. This is a lot of fun, but let me tell you, my guys at the shop work their butts off. So, I'm very proud they were able to come and enjoy this night, to see Jimmie win. Me and Kyle, we were battling it out. He doored me down there and I wasn't going to let him get away with it. I was going to pass him one way or another."
2006 Prelude winner Carl Edwards started the race 17th and worked his way toward the front and also made a late pass of Busch to finish in third place. Busch and Denny Hamlin completed the top five.
"Somebody (Ron Capps) ran over that cone during one of the restarts. So I figured, no cone, no rules," Edwards said. "That's how I got a couple of people on that last restart - running around the bottom. There, for a minute, I could see the lead and thought this is going to be pretty good. We just needed a little bit more time. Man that was a lot of fun. I had a blast."
Track owner and three-time Prelude winner Tony Stewart accepted the challenge of starting the race at the tail of the 27-car field, trying to earn an extra $50,000 for charity if he could win the race while starting in last place. Stewart battled through much of the field but finished in sixth place.
"It was a little bit hairy at the beginning with some guys who struggled in the back," Stewart said. "It was a little dusty at the beginning, back where we were. We needed a long, long run and we got better and better and better as the race went on and got three or four spots just in the last couple of laps there. It was pretty cool. I would've liked to have had about 10 or 20 more laps. I think we could have been up there giving Jimmie a run for it."
Stewart, the odds-on favorite entering the race, left impressed with Johnson.
"Well, I'm convinced he can drive anything," Stewart said. "I think if we got him a ride in the space shuttle, he could do it," Stewart said. "I mean, we saw it last year. When I followed him in the heat races, I was like this guy has picked this up really, really fast. So it doesn't surprise me at all. But it's cool to have a guy who hasn't won here before. He had to do it the hard way. He had some good guys behind him. It's hard to fight them off. It's hard when you're leading because you never know where to go on a dirt track because the conditions change. He got rolling around the top pretty good tonight, like a veteran."
The event featured 27 racing stars from NASCAR, the NHRA and the IRL. The drivers were divided into four teams with each team representing a different children's hospital. The hospitals then divided the money raised not only at the track through ticket sales, but also through the HBO Pay-Per-View nationwide telecast of the event.
The team racing for the Levine Children's Hospital in Charlotte won the team competition. The team was made up of Johnson (1st), Busch (4th), Dave Blaney (7th), Marcos Ambrose (15th), Matt Kenseth (18th), David Reutimann (21st) and Travis Pastrana (23rd).
"I didn't win, but at least I was the captain of the winning team," Busch said. "I'm just really happy that our efforts, especially Jimmie's, helped us to make a donation to Levine Children's Hospital. I just want to thank Tony for doing this. We all have a lot of fun out here."
The busy week at Eldora is far from over. Tonight the track will crown its new Ms. Eldora Speedway in a pageant in the ballroom adjacent to the track. Then on Friday, the top dirt late model teams in the country go after the biggest winner's check in the sport - $100,000 - in the Dream.
Qualifications for the race, which is expected draw more than 100 cars, are on Friday night with the heat races and 100-lap main event on Saturday night.