Saturday, June 12th, 2010
Summer job applicants meet demand
Some local employers pare number of jobs available
By Shelley Grieshop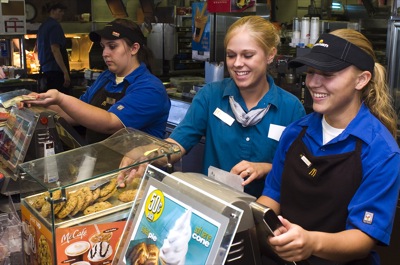 The slow economic recovery doesn't seem to be affecting the youth job market this summer.
Most local businesses such as fast food restaurants say they haven't received the mountain of applications they expected this year from the high school- and college-age crowd.
"We've hardly had any," said Jessica Phlipot, manager of the Dairy Queen in New Bremen.
The good news is they didn't need many. She explained that a lot of their younger employees keep their jobs year-round so the business often hires only a few people this time of year.
Some business owners said they don't need to hire much summer help because they hold jobs for returning college students. Also, many local companies employ children of their employees before seeking outside help, according to a spokeswoman from Manpower in Celina.
The McDonald's restaurants in Celina, St. Marys, Wapakoneta and Coldwater received 46 applications in May alone from young people seeking summer work; of those, they hired 17. The number of applicants was about the same as last year, human resources director Bonnie Berry said.
"We usually get a lot because our hours are pretty flexible. We work around the kids' busy schedules," she said.
The jump in minimum wage in July 2009 to $7.30 per hour hasn't effected McDonald's hiring practice, Berry said. Other area businesses contacted by The Daily Standard reported the same.
But across the country, the unemployment rate for teens has risen to nearly 30 percent, according to the U.S. Department of Labor.
Studies show the problem runs deeper than just kids without paychecks.
"Teens without a summer job miss out on the invisible curriculum that comes from reporting to an employer, showing up on time and interacting with customers," said Michael Saltsman, a researcher for the Employment Policies Institute, which tracks the overall job market.
The city of St. Marys tightened its belt the last two years due to budget shortfalls and subsequently slashed the number of youths hired during the summer for lawn mowing, painting and cleaning.
"Two years ago we hired 19. Last year it was five, this year we hired seven," said Sue Backs, the personnel director for the city. "We've had to watch our budget."
However, she didn't have too many disappointed applicants.
"We probably only had seven or eight kids apply," she said. "Maybe they heard we were cutting back."
The city continued its practice of hiring about 45 teens to work at the public swimming pool. Many of those employees are lifeguards - a job that must be filled for safety reasons, Backs said.
Vehorn Lawn Care Services in New Bremen netted a few more applications than normal this year. But employee Connie Post said the number of new hires was about the same as in 2009.
"We're really looking more for long-term workers," she said. "We always have a few (young workers) that don't stick around. I don't think they realize how hard the work really is."
Olga Mata of St. Henry feels fortunate not to be pounding the pavement for a job this summer. The 21-year-old college student intends to hang onto the position she landed last fall working in the Mercer County Auditor's Office.
"I got hired last August. It was supposed to be just an eight-week job," she said proudly.
Finding a good job during the recession wasn't just blind luck, she said. By word of mouth she learned about the One Stop Employment & Training program in Celina, a division of the county's Workforce Investment Act (WIA) agency. Through the job program she improved her office skills and within two weeks began working for the auditor, she said.
Deemed a good worker, she was offered the job on a permanent basis.
WIA's youth program provides various types of job assistance to people of all ages. Besides matching companies with employees, they educate job seekers - particularly young people with little work experience - on topics such as punctuality and reliability.
WIA Director Tim McCourtie said his door hasn't exactly been trampled down by clients this summer and he believes that's a good sign.
"I think, economically, we've leveled off and are a little on the upswing," he said.