Wednesday, June 16th, 2010
Billger fires a shutout for Celina in win over Parkway
By Mark Ruschau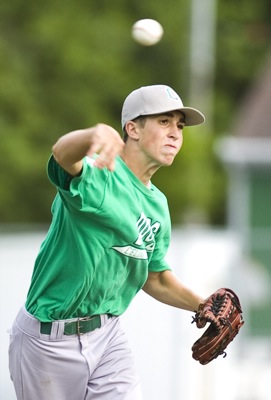 CELINA - The Celina Bulldogs used outstanding pitching from Braden Billger and a solid defensive effort to win a pitcher's duel with the Parkway Panthers for a 1-0 win in ACME action on Tuesday night at Montgomery Field.
Celina is now 4-5 this summer while Parkway slips to 6-4.
Billger was sparkling on the hill as he scattered five hits in gaining the complete-game shutout. Billger had great control as he walked just one and struck out five.
Billger's numbers do not tell the whole story however. He needed big plays from his defensive teammates late in the game to seal the win. In the sixth inning with Celina on top 1-0, Parkway's Derek Luth led off with a single and promptly stole second, then went to third on a sacrifice bunt by Trey Likes. With one out, Evan Cheek hit a groundball to the right of the mound, which Billger fielded and fired to first for the second out. Luth broke for home on the Cheek grounder and appeared to score the tying run but was called out when the umpires called Cheek for interfering with the throw home to end the inning.
"We have been talking a lot about team and team defense. To want the ball and tonight we really came through as a team, played well and executed well defensively," said Celina coach Rob Howell. "You can see that the intensity really picked up on the field and good things happen when you do that."
While Howell was happy with the performance of his squad, Parkway coach Ryan Berry was wondering what might of been.
"Obviously we struggled tonight with runners in scoring position," said Berry. "We were not able to come up with the big hit and that (being able to get the big hit) is a sign of a good team. We had been able to come up with the big hit for the most part this season, but we were not able to tonight."
Again in the seventh, the Panthers got the lead-off batter to third with less then two outs as Bret Swygart led off with a single, stole second and went to third on a passed ball. With no outs, Chris Brazle hit a sharp groundball to Celina second baseman Mitch Albers, who fired home for the first out. Brazle then stole second and went to third on a infield hit by Dillon Baker. With Brandon Moorman at the plate, Berry called for a suicide squeeze, but Moorman missed the pitch and Brazle was tagged out at home. After a Moorman single, Billger got out of the jam by getting Bryce Bedwell to bounce out.
The lack of run support dimmed a great pitching performance by Baker, who allowed the Bulldogs just one run and five hits in pitching the complete game.
The only run of the game came in the fourth for Celina as Derek Waterman doubled to the gap in right-centerfield and scored on a two-out single by Kyle Markle.
"We have been struggling offensively this summer. We have not gotten a lot of hits in a given game, so we went small ball tonight," said Howell. "Three times we had runners in scoring position with two outs and one time we were able to score. That was enough and our defense took over from there and that is how you win games."
"Bake did another good job tonight. That is two nice games in a row for him," said Berry. "They had some hits, but none of them were really hard hit. He hit his spots and he made his pitches when we had to but we just came up short."