Saturday, June 19th, 2010
State issues advisory for Grand Lake
New, potentially toxic blue-green algae species found; EPA testing continues
By Nancy Allen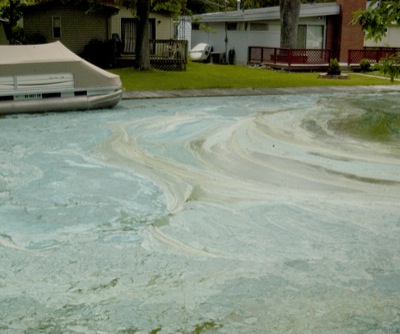 GRAND LAKE - The state has placed another water advisory on Grand Lake due to a new, potentially toxic blue-green algae species found in the lake.
Preliminary test results received late Friday by the Ohio EPA show the new algae is not producing toxins now. However, the Ohio Department of Natural Resources is keeping the advisory in place.
"We did not rescind (the advisory) because there is follow-up testing that still needs to take place," said ODNR spokeswoman Heidi Hetzel-Evans. "We are erring on the side of safety until we get final tests from the EPA."
Those results should be available in a few weeks, she said.
Signs warning the public to avoid direct contact with "visible surface scum" will be posted around the lake this weekend, Evans said.
Meanwhile, Grand Lake water samples taken this week show levels of microcystin toxin produced by the lake's already known planktothrix algae remain below the 20 parts per billion safety threshold set by the World Health Organization. Levels ranged from 5.4 to 12.9 parts per billion. Celina's treated drinking water continues to test negative for the toxin.
Planktothrix, the predominant blue-green algae present in the lake last year, caused the state to issue the first water quality advisory before the 2009 Memorial Day weekend. It was lifted in April after toxin levels dropped. The toxin can cause skin and throat irritations and gastrointestional-like symptoms in humans. It can be deadly to small animals that drink it.
Preliminary testing identifies the new algae species as aphanizomenon gracile, said Ohio EPA spokeswoman Dina Pierce. This algae can produce toxins that affect the liver, nervous system and skin. It does not produce the microcystin toxin like planktothrix, she said.
There are more than 20 species of blue-green algae, known scientifically as cyanobacteria, Pierce said. Not all produce harmful toxins and the ones that do don't produce them all the time. Scientists still don't know why algaes produce the toxins at certain times and not others, she said.
The new iridescent blue and green colored algae floating in thick mats was reported in many areas of the lake on Monday. Heavy rain late Monday night dispersed a lot of it but another large bloom appeared on Wednesday.
Pierce said the OEPA is trying to learn as much as it can about the new algae in order to inform the public.
"With this new species emerging we're back at square one like we were last year with the first water quality advisory," she said. "We'll continue to do more thorough analysis and as soon as we get information we will update the Web site.

Video available online:
To see a Daily Standard video of the new blue-green algae species bloom go online at http://www.dailystandard.com/
To view the most up to date algae toxin levels for Grand Lake, go online at http://www.epa.ohio.gov/pic/glsm_algae.aspx and then click on Grand Lake St. Marys Sampling Data.
For information on harmful algal blooms, go online to
http://www.epa.ohio.gov/dsw/HAB.aspx
To speak to an OEPA representative about Grand Lake toxin levels, call Darla Peelle at 614-644-2160.