Monday, June 21st, 2010
150 bicyclists race around Grand Lake
By Eric Adams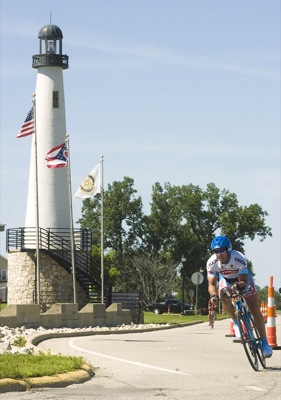 GRAND LAKE - Flat and fast.
Level terrain and a smooth route were model conditions for bicyclists who traveled from as far as South Carolina to compete in the fifth of the nine-race 2010 Colavita Time Trial Series on Sunday.
The first-of-its-kind event in the Grand Lake area attracted approximately 150 professional and semi-professional riders.
Roger Bowersock, a St. Marys native and former professional cyclist, organized the time trial and mapped the 24-mile lakeside course. He said the flat, well-paved roads - Lake Shore Drive and state routes 127 and 703 - were ideal for cycling.
Deb Borns, of Coldwell Banker, is a longtime friend of Bowersock, and was thrilled when he requested her sponsorship.
Borns, who is also Celina's downtown manager, said she thought the time trial was a great way to draw attention to Grand Lake and perhaps help dispel any exaggerated rumors about the algae issue.
"I can't think of a more gorgeous place to host such an event." Borns said, gesturing toward the lake.
Many participants agreed with Borns. Two cyclists from northwest Ohio said they were excited to race around Grand Lake and glad the time trial was a bit closer to home.
"This is nice" said Austin Wieland, member of a Bryan-area cycling team. "Most events you have to drive three to four hours for."
Likely the most excited of anyone in attendance was Gary Painter, a 54-year-old Ft. Wayne resident who crossed the finish line first.
The Convoy native has been cycling competitively for several years.
"This is my second (cycling) career" Painter said. "I raced for a long time when I was younger, then started again after my youngest daughter graduated college."
Painter said he was impressed by the course and by Bowersock's excellent organizational and promotional abilities.
"I've been to state competitions where there are only 80 racers" said Painter. "Roger routinely gets 160 to come to his races."
"This was a beautiful course; very flat and very fast" said Painter, who finished the race in about 50 minutes with an average speed of 27 or 28 mph.