Wednesday, June 23rd, 2010
Floating wetlands installed
Aquatic plants should absorb Grand Lake nutrients
By Nancy Allen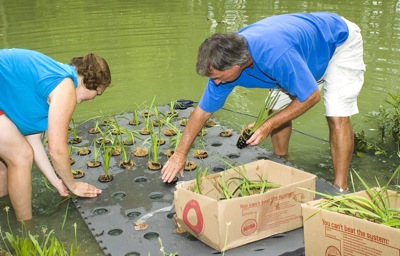 GRAND LAKE - Floating wetland mats containing about 10,000 aquatic plants are being installed at five locations in Grand Lake.
The interconnected mats are made of foam and contain holes where the plants are placed.
Laura Walker, coordinator of the Grand Lake/Wabash Watershed Alliance, is heading up the project.
"Floating wetlands take up nutrients and they've been proven in other areas in Ohio and Florida," Walker said Tuesday morning. "Today we planted blue flag irises ... altogether we'll plant six different types of plants."
The project is being funded by $34,000 in leftover grant funds used to install 700 feet of geotextile tubes along the shoreline near Windy Point. The extra money was due to project costs coming in under estimates.
Most of the money will be used to pay a consulting firm which chose the six plant species and will analyze the plants during the growing process to determine which take up the most nutrients.
The largest floating wetland, 650-by-4-feet, will be installed in front of the geotextile tubes, which are filled with sediment dredged from the lake and will stay on the shoreline permanently to act as a breakwater and lessen erosion.
Walker said smaller sections of floating wetlands will be installed in a channel at Behm's Landing, a boat dock at Zuma Park, near two giant aerators in bays at Southmoor Shores and Park Grand Resort, and at Harbor Point near the 4-H camp.
The growing plants act as sponges that remove phosphorous from the water. Excess nutrients, particularly phosphorous, are what feeds the blue-green algae in the lake.
The plants will be removed from the water in October and kept in a greenhouse. They may be replanted next spring. The floating mats and cups can be used again.
Nick Renner, a member of the watershed alliance's joint board, called the floating wetlands a "drop in the bucket" toward better water quality in Grand Lake.
Walker agreed, but said it is going to take a lot of different tactics to help improve the lake's water quality.
"This is just one small piece of the puzzle," she said. "If we got a call from a landowner (with an algae problem) who has a channel, this is something they could do to help."