Thursday, June 3rd, 2010
Lifeguards save girl
Coldwater
By Betty Lawrence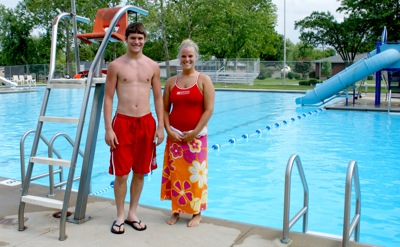 COLDWATER - A tragedy was averted Wednesday afternoon at Memorial Pool in Coldwater following the swift action of two lifeguards.
Nine-year-old Jasmine Adams was not breathing and was unconscious at the bottom of the pool when lifeguard Kristy Schaefer pulled her out of about 5 1/2 feet of water.
Schaefer immediately began CPR and Adams soon began breathing. A 911 call was reported at 2:13 p.m., and the young girl was taken by ambulance to Mercer County Community Hospital in Coldwater. She then was transported to Children's Hospital in Dayton for observation, where she was listed in good condition this morning.
The heroic lifeguards calmly spoke of the near drowning while finishing out their duties at the pool on Wednesday.
"One of the other lifeguards (Kyle Bergman) got my attention and said he thought someone was under water," the 19-year-old Schaefer said. "I jumped in the pool and found her laying along one of the black racing lines at the bottom of the pool. She was really hard to see at first. I got her and brought her to the side of the pool and got the resuscitation mask and started CPR. She wasn't breathing at first."
Bergman, 16, who first noticed the swimmer, held Adams' head while Schaefer applied CPR. Pool manager Bob Miller also assisted.
"I had been watching the girl and another little girl playing in the pool, near the deeper area, and when I realized one was missing I started checking the pool," Bergman said. "I thought I saw something at the bottom of the pool and whistled at Kristy, pointing down to where I thought I saw something. I asked, is that a girl, and Kristy got in the pool and then whistled to clear the pool.
"I held her head and Kristy and Bob switched off on rescue breaths. When the rescue squad arrived, they took over."
Adam's mother, Stephanie, who watched the rescue unfold, stopped at the pool later Wednesday to thank those involved in saving her daughter, Miller said.
"She indicated that Jasmine went down the slide and that she couldn't swim. She then apparently panicked when she was in the deeper water," Miller said. "All indications are she is expected to make a complete recovery."
There were about 150 swimmers at the pool on Wednesday, according to Miller. He said he is "especially proud" of his lifeguards.
"I stress, when I meet with the lifeguards at the beginning of the year, that you hope it never happens and hope when it does that everyone reacts the way they should and hope for a good outcome," he said. "There's always an inherent danger there. Kristy and Kyle did exactly what they were supposed to do. They did an outstanding job and are heroes."
Schaefer, of St. Anthony, is a four-year lifeguard at the pool. She is a graduate of Coldwater High School and is majoring in nursing at the University of St. Francis. She is the daughter of Kevin and Judy Schaefer.
Bergman, of Coldwater, is a second-year lifeguard. He will be a sophomore at Coldwater High School and is the son of Fred and Ruth Bergman.
Memorial Pool staffs seven lifeguards on a shift - one in the baby pool, two in the bathhouse and four strategically situated around the pool. They go through the American Red Cross CPR classes and must get certified before becoming a lifeguard.
"I've not had to do anything like this before," Schaefer said. "I still have it playing through my head. We had the life of someone in our hands. You never expect it to happen, especially in a small town."
The lifeguards offered some safety advice to swimmers.
"Always swim with a friend. Never go by yourself," Bergman said.
"And always be cautious and careful when you're around water," Schaefer said.