Wednesday, June 30th, 2010
Husband escapes prison time for wife's overdose death
Judge imposes communitycontrol sanctions on Brett Riley, father of two
By Margie Wuebker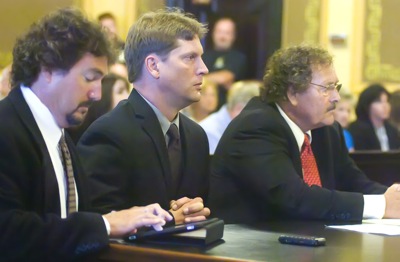 CELINA - Brett Riley of Celina held his breath in court this morning as he was sentenced to community control sanctions on charges of reckless homicide and possession of drugs stemming from the June 2009 death of his wife.
Riley was charged for purchasing and providing the drug that led to his wife's overdose and death.
Mercer County Common Pleas Court Judge Jeffrey Ingraham stated a prison sentence was not appropriate in the case.
Instead, he ordered four years community control and 90 days in jail to be served on notice from the adult probation department. This is typically ordered in the event of a violation. Other terms include a daily curfew, continued counseling for drug, alcohol and psychological issues and a six-month operator's license suspension.
The 43-year-old Riley, who resides at 428 E. Livingston St., also was ordered to seek and maintain employment. He also must wear a transdermal alcohol device at his own cost to assure his present lifestyle is without alcohol or drugs and will undergo random testing.
Ingraham warned he would impose concurrent prison sentences of four years on the reckless homicide charge and one year on the drug possession charge in the event Riley violates the court-imposed sanctions.
Defense attorney Greg Wilson read excerpts of letters from the Riley children, ages 15 and 12. "I'm entirely positive my mother would hate all of this," his daughter wrote, adding she and her brother did not want to see their father go to jail. His son asked the judge to accept his mother's actions and forgive his father's wrongdoings.
Riley, dressed in a dark suit, expressed sorrow for not getting his alcohol and drug issues stopped before the night of June 9, 2009, when Celina Police and Celina Fire Department medics responded to the home because the children could not rouse their parents.
"Not a day goes by that I don't think of Shelley ... I would give anything to have her back," he said with a cracked voice.
Michelle Riley, a banker at Chase Bank in Celina, was pronounced dead at the scene while her husband was rushed to Mercer County Community Hospital in Coldwater unconscious but breathing. He later regained consciousness at the hospital and reportedly told authorities what took place.
The Rileys apparently sucked on pieces of a fentanyl patch to obtain a heightened effect from the narcotic it contained. An autopsy conducted at the Montgomery County Coroner's Office determined the cause of Michelle Riley's death as fentanyl and alcohol intoxication.
When used properly, fentanly patches provide a slow release of pain medication over the course of 24 to 48 hours. An overdose leads to swelling of the mouth and face, difficulty breathing, seizures and ultimately death.
Roberta Donovan, a licensed social worker who has counseled the Riley family at Foundations Behavioral Health Services, said the children like their father as he is now and not before the tragedy.
Michelle's parents, Kenneth and Betty Laux, took turns reading from a prepared statement. She spoke about dealing with a void that can never be filled by anyone or anything. He asked the judge, "If you have the wisdom to explain to us, how do you fix a hole in your heart, please share it with us."
Ingraham admitted he had no such remedy and added the theme of the many letters he received involves the issue of accepting responsibility and being accountable for one's actions.
"Spouses often refer to each other as best friends," Ingraham said. "A true friend cares about the other person and holds them accountable to be the best they can be."
He voiced the hope that Riley's renewed sense of responsibility would prevent he and his friends from such a tragedy in the future.
"You can't change the past," Ingraham added. "But you can learn from the past."
Riley, who pleaded no contest May 26 as part of a negotiated agreement that resulted in the dismissal of four additional charges, reportedly purchased the patch from Philip Roy Schmidt for $56 at Roberts Town Tavern in Celina.
The 60-year-old Schmidt, who formerly resided at 1100 Myers Road, is currently serving consecutive prison terms totaling 13 years at Hocking Correctional Facility in Nelsonville for reckless homicide, corrupting another with drugs and trafficking in drugs in a related case.