Monday, June 7th, 2010
Goodwin, Breland crowned champions
2010 Divisions I-II State Track Meet
By Gary R. Rasberry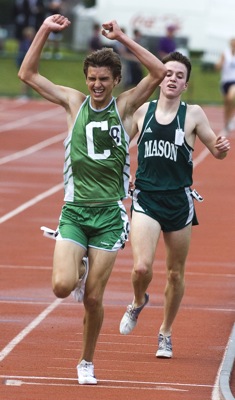 COLUMBUS - For Andrew Goodwin to achieve his dream of winning a state championship, he would have to pull out all of the stops.
To win the Division I 3,200-meter run at the state track meet on Saturday, the Celina senior would have to battle Mason's Zach Wills, the two-time defending champion in the event.
Goodwin had to sprint at the end to grab the gold, dashing ahead of Wills in the final 100 meters to finish just over a half-second ahead.
The win was the first for a Celina male track athlete at the state meet in school history, and the first state title for the track program since Kristina Roth won the Division I 3,200-meter title in 2001.
At the start, Goodwin, Wills and Pickerington North's Daniel Garleb pulled away as the frontrunners. Goodwin was in third after the opening lap, but dashed out in front in hopes to pick up the pace.
"The first or second lap I took the lead, it was too slow," Goodwin said of the pace of the race. "I wanted to be (69 seconds for each lap) for the first 1,600 (meters). First lap was like 71, so I took the lead to speed up a bit. That seemed to work."
Garleb took the bait and dashed out to the lead with Wills and Goodwin close behind as the rest of the pack began to fall back. Garleb finally backed off his pace and Wills went to the front, with Goodwin just a few paces behind.
"I knew it was going to be right until the end," said Goodwin of biding his time. "I knew they were both very strong. I wanted to wait as long as possible and see if I had anything left."
As the gun sounded to signal the final lap, Wills and Goodwin began to pick up the pace. Goodwin matched Wills stride for stride on the backstretch of the track.
"I was hoping and praying I would have the kick," said Goodwin. "I wanted it too bad to give it up, so I just dug in and gave it everything I had."
As the pair came around the final turn and went into the final 100 meters, Goodwin made his move. He dashed to the front and took the lead. Goodwin crossed the finish line in 9:11.44 - breaking his own school record - with Wills coming in at 9:12, a difference of 0.56 seconds. Garleb was the only other runner to break 9:20, finishing at 9:18.90.
"I felt like once I got past him and he wasn't on my shoulders, I started going through my mind that I might get this," said Goodwin, who earlier this year won the state coaches' association's state indoor title in the 3,200.
"I couldn't believe, the roar (of the crowd) got me so pumped up. It was awesome!"
Goodwin, who finishes his career holding school records in the 800, 1,600, 3,200 as well as the cross country record, is proud to make some history for the Celina program.
"That's really special. It means a lot," said Goodwin of becoming the first Bulldog boy to win a state title. "Celina has a strong history, and to be a part of it like that is amazing.
"As a sophomore, it was like 'Man, it would be awesome to run at the state meet.' I never thought in a million years I would be a state champ. Halfway through and toward the end of the year, I thought maybe I could do it. I just never let it out of my mind."
Restart helps Breland to gold
St. Marys' junior Mekayla Breland showed that patience is a virtue as she won the Division II state shot put championship.
As she was preparing for one of her prelim throws, fans watching the boys discus nearby shouted as Pemberville's Justin Welch broke the stadium record with a toss of 197-1. Breland stopped her motion, which is permitted, set up again and let the shot fly.
"I have to stay focused when I throw," said Breland about the delay. "If not, it always throws me off. ... I don't think I would have done that great."
The waiting produced a personal best of 44 feet, 11 inches, more than two feet better than the runner-up finisher, Ontario's Molly Barnhill. Breland later threw 43-7, giving her the two best throws of the meet.
"It's an amazing feeling," said Breland, who finished sixth last season as a sophomore. "I really wanted this. I got out there and threw. It honestly came out of nowhere. Feels great."
Fleck happy for third place
For Celina's Hannah Fleck, it would have taken a Herculean effort to try and catch Zane Trace's Taylor Hatfield in the 800 meters. Hatfield broke the meet and Division II mark in the race, crossing in 2:08.91, which was close to the track record.
But Fleck made a run, getting as close as she could before taking third place in a time of 2:16.02, which was better than her regional championship time.
"(Hatfield) went out fast and ran a phenomenal race," said Fleck. "I was just happy to be in the same race as her.
"I wasn't expecting to go out that fast, but it did. I knew I had a lot of ground to make up, so I just went out as hard as I could and try to catch up."
Coldwater's Veronica Bruns wrapped up her season with a 12th-place finish in the 800 meters.