Friday, July 2nd, 2010
Wheat woes
By Nancy Allen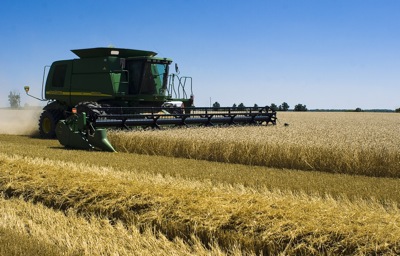 This spring's continuous wet, cloudy conditions were nearly perfect for causing fungal problems in wheat - particularly wheat scab. And now that wheat is being harvested, local grain farmers are seeing profit losses.
"I heard one guy who said he was docked $2.40 a bushel," State Rep. Jim Zehringer, R-Fort Recovery, said during Thursday's monthly Mercer County ag breakfast meeting. "I understand some elevators aren't even taking wheat with scab."
Wheat scab produces a toxin (vomotoxin) that reduces the potential for wheat to be used for human food or in animal feed.
Jim VanTilburg of VanTilburg Farms, Celina, said there is usually a certain amount of vomotoxin in wheat, but this year's weather conditions created the "perfect storm" for the fungus to grow.
"We had toxin levels a number of years ago, but never as bad or widespread as this year," VanTilburg said. "We have a certain amount of it every year, but it's usually minute and doesn't cause a problem."
VanTilburg said his elevator is not buying wheat with high toxin levels, but and is instead direct hauling it for farmers to grain terminals and millers who will take it.
"We've had truckloads of wheat, virtually all day trying to find a home for it, but it's hard because the terminals and millers change the rules by the hour" he said. "No one knows what to do. We're trying to service the farmers the best we can and not go broke in the process."
Darren Deffenbaugh, a grain merchandiser for Mercer Landmark's Convoy branch, said the elevator hasn't rejected anybody's infected wheat - yet.
"Once you have it (toxin) above two parts per million it can no longer be milled into flour and so the only alternative it to blend it into feed at low levels," he said.
Hogs won't eat it, but animals such as poultry and beef cows can better tolerate the vomotoxin, he said. It should not be fed to dairy cattle because it can cause them to lose their unborn calves and other hormonal problems.
Chris Gibbs, Mercer County Farm Service Agency executive director, said this year's wheat has three things going against it - low yields, low test weights and high vomotoxin levels.
He said he's heard of farmers being docked in excess of $2 per bushel for infected wheat. (Current elevator cash price is about $4). Yields are ranging 50 to 60 percent of what they normally are, he said.
"When you add the 40-50 percent yield decrease and then dock the price by 50 percent, the wheat crop in Mercer County this year is a financial disaster for area producers," Gibbs said.
Farmers should contact their crop insurance providers before marketing or disposing of their infected wheat because both wheat quantity and quality are eligible perils in most policies, he said.
Gibbs predicted producers will plant less wheat this fall as a result of their negative experience this year.

Dealing with scab:
Care should be taken when harvesting wheat with scab infection, due to potential health issues, information from the OSU Extension states. Safety recommendations include:
• Wearing a dust mask to avoid breathing in the dust.
• Using the fan in the combine to blow some of the lighter, infected grain out the back of the combine.
• Harvesting infected fields first, since the toxin will increase if the grain is wet prior to harvest. Even if the wheat is harvested at higher moisture levels to halt the deterioration, it will need to be dried below 15 percent moisture to prevent fungal growth and toxin buildup in storage.
• Testing wheat for vomotoxin before feeding it to livestock, as well as making any decision on blending it into feed or discarding it.