Wednesday, July 7th, 2010
Algae vapor not harmful at distance
Stench of Grand Lake part of bigger issue
By Shelley Grieshop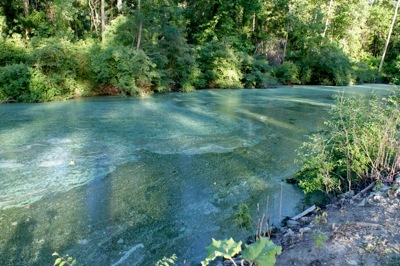 The awful smell emitted from the algae in the lake likely isn't harmful to humans unless they are directly exposed to the water by activities such as jet skiing and tubing, a state health official said.
Greg Stein of the Ohio Department of Health in Columbus is actively investigating the algae issues at Grand Lake to identify possible public health problems. He and his program chief, Dr. Bob Frey, recently released information about the byproduct, geosmin, produced when the blue-green algae dies.
"The human nose is extremely sensitive to geosmin and we are able to detect it at concentrations as low as 5 parts per trillion," Stein said.
The geosmin is an organic compound considered chemically not toxic in the air, so the blue-green (cyanobacterial) algae "does not appear to pose a vapor problem." The toxins produced are not "off-gassing" and can't be carried through the air into neighboring homes, he added.
However, there is a possibility the toxins can be aerosolized - a gaseous suspension of particles - by activities such as speed boating, jet skiing or tubing, which causes heavy wave or wake action, Stein said.
"In this case, the violent disturbance of the water can cause the water to be aerosolized and the people engaging in these activities can be exposed to the lake toxins in an aerosolized format," he said.
Stein also noted the smell alone can be uncomfortable for those who are sensitive to odors and can cause temporary headaches and nausea. The stench is more likely to affect sensitive populations including young children, pregnant women, the elderly and people with chronic health problems, he added.
"Because it can be detected at such small levels, the lake is likely to stink and the residents and businesses in close proximity to the lake will likely detect these odors . . ." he said.
Stein did not say how long the algae smell will linger.
Meanwhile, the decision to be near or on the lake is a personal one.
"Each individual needs to determine if they believe their health is being impacted by foul odors and consider their options to reduce their exposures," he said.