Thursday, July 1st, 2010
Mariners shut out Monarchs
Earle, Hough combine to throw three-hitter for Grand Lake
By Ryan Hines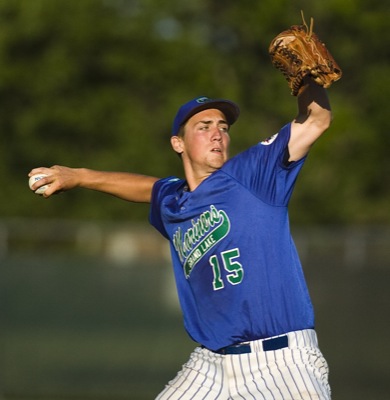 CELINA - The Lake Erie Monarchs entered Wednesday's Great Lakes Summer Collegiate League contest against the Grand Lake Mariners with the best ERA in the league.
Jared Earle and Corey Hough proved that the Grand Lake pitching staff isn't too shabby either.
Earle and Hough combined for a three-hit shutout as the Mariners defeated Lake Erie, 4-0, at Jim Hoess Field.
Grand Lake (6-7) got a great start from Earle, but it certainly didn't begin very good. Earle walked three in the first inning but wiggled out of the jam. He did not give up any runs and struck out two.
From that point on, Earle was dominant.
Earle pitched six scoreless innings and allowed only two hits while striking out seven.
"I struggled out of the gate for sure, but I think my catcher (Kevin Franchetti) and coach (Joe Marker) helped settle me down a little bit," said Earle. "Then I got into a groove, felt more comfortable and went from there."
Earle is now 2-0 this summer for the Mariners and has a microscopic ERA 0.53.
"He was joking that the first-inning struggles must have been because of the mound since we re-worked it today, but that was just another great start by Jared," said Marker. "He was leaving the ball up in the first inning, but once he settled down he was dominant."
Hough was tagged for five runs in just two innings against Hamilton in his last outing on Sunday, but he was impressive against Lake Erie with three shutout innings, allowing just one hit while striking out four.
"It was nice to see Corey come in and pitch the way he did after a rough outing his last time out," said Marker. "He pitched well."
Lake Erie (8-8-1) had a team ERA of 2.89 entering Wednesday's game and Monarchs starting pitcher Alex Radon was brilliant during his time on the mound. Radon threw four perfect innings, matching Earle pitch-for-pitch.
Radon was replaced on the mound by lefty Mike Morgan and the Monarchs defense played a key role in the Mariners taking a 1-0 lead in the fifth inning.
Grand Lake's Andrew Carpenter hit a routine grounder to Lake Erie second baseman Elliott Searer and he bobbled the ball and then threw wildly to first base for two errors, landing Carpenter on second.
Franchetti then hit a line-drive single off the glove of Searer at second to give the Mariners runners at first and third with just one out.
Kirby Campbell capped a 10-pitch at-bat with an RBI sacrifice fly to leftfield as Grand Lake grabbed a 1-0 lead.
"That was a really good at-bat by Kirby. He fouled off a bunch of pitches and then got a pitch where he could drive in a run for us," said Marker. "That was a big run for us because it broke a scoreless tie, gave us some confidence and kind of got us rolling in the right direction."
Ryan Brenner's speed produced the second run for Grand Lake. Brenner singled, stole two bases and then trotted home on a Sam Picchiotti RBI single for a 2-0 Mariners lead.
Grand Lake added a pair of insurance runs in the eighth inning. Cale Marker singled and John Bonvillian was hit by a pitch to lead off the eighth and then Brenner laid down a perfect bunt to move the runners up a base.
Picchiotti drove in his second run of the game with a sacrifice fly to plate Marker and then Bonvillian raced home for the final run on a wild pitch.
Grand Lake returns to action tonight at 7:15 p.m. with a home contest against the Cincinnati Steam at Jim Hoess Field before traveling to Lima on Friday to face the rival Locos.