Thursday, July 15th, 2010
Auglaize vs. Mercer in winner's bracket semifinals
By Gary R. Rasberry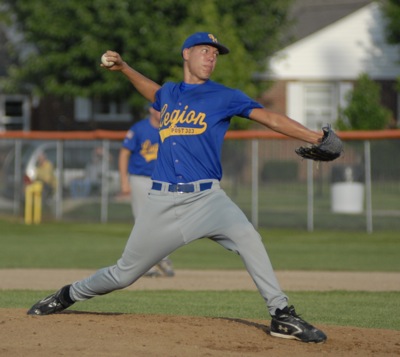 COLDWATER - All four Grand Lake area teams opened the District 4 ACME Tournament with victories and will now face off on Friday in the winner's bracket at Coldwater's Veterans Field.
Celina wrapped up nearly seven hours of baseball action just before midnight by beating Delphos Jefferson, 14-7, in the final game of a tripleheader.
Auglaize County teams won the first two games of the day behind solid pitching. Doug Huber struck out 13 as Minster advanced with a 5-1 win over Anna. In the middle game of the tripleheader, Derek Roop fired a one-hitter as St. Marys dominated from the start in a 14-1 five-inning victory over Lehman.
The winner's bracket games on Friday will feature a Battle of Grand Lake and a matchup pitting the co-champs this spring in the Midwest Athletic Conference against each other. St. Marys faces Celina at 6 p.m. on Friday's first game while Coldwater takes on Minster at approximately 8:15 p.m.
Tonight's doubleheader at Veterans Field will be exclusively for Shelby and Van Wert County teams. Van Wert takes on Anna at 6 p.m. in one elimination game with Jefferson playing Lehman in another win-or-go-home contest at 8:15 p.m.

Celina 14, Delphos Jefferson 7
Things did not look good for the Bulldogs in the first inning as Jefferson scored four times off Celina starter Kyle Berry.
"We came out flat, no question about it," said Celina coach Rob Howell. "That's something we simply cannot do in a game situation like this and tournament situation. ... We weren't mixing up pitches very well. We were throwing a lot of BP (batting practice) strikes and obviously anyone could hit that. Hats off to Delphos, they played a great game."
Berry recovered from the early struggles and pitched scoreless second and third innings, allowing time for the Bulldogs to get the offense going.
Trouble came for Delphos Jefferson in the bottom of the third inning. Celina sent 15 batters to the plate and scored 10 runs. Three Jefferson errors played a big part, as well as clutch hitting from Aric Fickert, Brandon Brooks and Kahl Knapke. Jefferson starting pitcher Tony George issued a pair of bases-loaded walks before getting pulled after giving up 11 runs (four earned) in just 21/3 innings.
Curtis Miller hit a two-run home run in the fourth inning for Jefferson and after the leadoff man reached base in the fifth, Berry was pulled from the mound for Mitch Albers, who struck out the side.
In the sixth, Albers worked the bases loaded before striking out Shayn Klinger to end the inning. In the seventh, the Jeff-Cats got two on with one out, but Justin Rode grounded into the 4-6-3 doubleplay to end the game.
"Kyle pitched a great game tonight, and he was off," said Howell. "That's speaks volumes to what his potential really is. He really bared down. We had some communications and discussions after the first inning about what he was doing. He was throwing up in the zone.
"He battled and battled. That says a lot about his character."
Derek Waterman, Ryan Paulus and Knapke each collected two hits for Celina while Waterman scored three times with Paulus and Knapke scoring twice.
George went 3-for-5 with two doubles for Jefferson.
Minster 5, Anna 1
After the first three Anna batters reached base, resulting in a run, Huber got down to the task of dominating the Rockets' batting order. Of the first nine outs recorded, Huber struck out seven and finished with 13 punchouts and three walks over his six innings of work. Reliever Andrew Knapke was up to the punchout task himself, striking out two of the three batters he faced in a perfect seventh to close things out.
"When he decided to bare down and throw some strikes, he threw the ball extremely well tonight. I couldn't ask for anything more," said Minster coach Scott Sherman. "Very competitive kid. He came in and dominated."
Minster need two innings to warm up the bats, taking the lead in the third. Brett Meiring led off with a single and went to second on Austin Knapke's bunt. Chase Paxson brought in Meiring with a single and Paxson went to second on the throw home.
Adam Niemeyer replaced Paxson at second with an RBI single to make it 2-1 while Huber contributed a two-run single for a 4-1 Minster lead. Meiring drove in pinch-runner Jay Eilerman in the fourth for the other Minster run.
"We're swinging the bats really well," said Sherman. "Especially in the middle of the order. We are putting the ball into play and making them make outs. We're hitting the ball extremely well, especially with two outs."
Meiring was the only multi-hit Wildcat in going 2-for-3.
St. Marys 14, Lehman 1 (5 innings)
The Roughriders got the offense early and often against the Cavaliers, scoring two runs in the first and second innings before really warming up with three in the third, four in the fourth and three more to trigger the run rule in the bottom of the fifth.
"Derek pitched a nice game, four-for-four at the plate. Mitch Newbauer was 3-for-3 with a sac (sacrifice)," said St. Marys skipper Dave Huber. "The guys came out and hit the ball and played pretty good defense. It worked out for us."
Derek Roop, who had three RBI in his 4-for-4 day at the plate, kept Lehman hitless until Matt Pulfer singled in the fourth. Pulfer's single scored Andrew Gilraldi for the only Cavalier run of the game.
Roop struck out nine and walked one in the win. Other than the one hit and one walk, the only other Lehman baserunners came on a hit batsman and an error.
"That's where we ran into problems over at the Auglaize County tournament," said Huber. "We were letting the first (opposing) batter to get on base. They were scoring runs and we weren't responding. We had a discussion about that. It worked out this game. We'll see what Friday brings."

ACME Schedule:

Wednesday's Scores
Minster 5, Anna 1
St. Marys 14, Lehman 1 (5 innings)
Celina 14, Delphos Jefferson 7
Tonight
Loser's Bracket Games
Van Wert vs. Anna, 6 p.m.
Lehman vs. Delphos Jefferson, 8:15 p.m.
Friday
Winner's Bracket Games
St. Marys vs. Celina, 6 p.m.
Coldwater vs. Minster, 8:15 p.m.
Sunday's Games
Losers' Bracket Games, 2 and 4 p.m.
Monday's Games
Winners' Bracket Final, 6 p.m.
Losers' Bracket Semifinal, 8:15 p.m.
Tuesday's Games
Losers' Bracket Final, 6 p.m.
District Championship, 8:15 p.m.
Wednesday's Game (If Necessary)
District Championship Game #2, 7 p.m.

(Winner advances to Ron Fortkamp Memorial State Tournament at Celina on July 24).