Saturday, July 17th, 2010
Don't go in Grand Lake, state says
Algae toxins surpass level deemed safe for humans
By Nancy Allen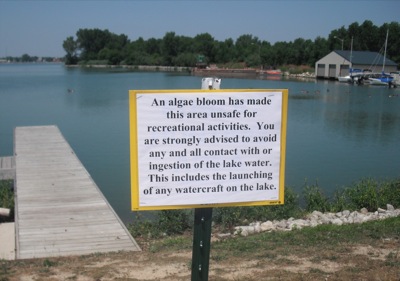 Don't eat fish from it. Don't put watercraft in it.
The state has put a stricter warning on Grand Lake's water quality after tests taken Monday showed microcystin levels of more than 2,000 parts per billion (ppb), the amount at which The World Health Organization deems the algae toxin a severe risk to human health.
The EPA continues to stress tests show Celina's municipal drinking water, which is drawn from the lake, remains safe and free of toxins.
Microcystin, a liver toxin, is being produced by a form of blue-green algae called microcystis which was detected in the lake a few weeks ago. Last year's dominant blue-green algae, planktothrix, can also produce the microcystin toxin, but it hasn't been detected this year.
The microcystin levels continue to increase exponentially. Results announced July 9 showed levels at 250 ppb. The July 2 report showed 50 ppb.
"Technically this is still an advisory but we are strongly advising people to avoid contact with the water and to keep dogs and other animals away and not to let them drink it," said Dina Pierce, Ohio EPA spokeswoman. "We're going to continue sampling and posting the results weekly."
Celina Water Treatment Plant Superintendent Mike Sudman said the latest toxin levels are high because water samples drawn by the Ohio EPA are taken from the surface, where the algae scum floats. A sample Sudman took Thursday from the plant's intake pipe near the bottom of the lake showed a reading of 25 ppb, he said. A sample he took the prior week showed 7.7 ppb.
Sudman said he believes samples taken from below the water surface are a better indicator of the true toxin level.
A sample the Ohio EPA took from west beach this week was the consistency of pudding because it had so much algae in it, according to Sudman.
"To me, that's not a water sample, that's all algae," he said.
Pierce said the Ohio EPA has not received results from Green Water Labs in Florida for three other toxins - anatoxin and saxitoxin, both nerve toxins, and cylindrospermopsin, a liver toxin - produced by aphanizomenon, another type of blue-green algae in the lake. The EPA expects to update the Grand Lake Web page with those toxin results on Monday, she said.
Aphanizomenon is the thick, noxious smelling blue-green algae that first began blooming about four weeks ago, causing the state to issue the second water quality advisory in two years.
Pierce said studies the Ohio EPA used last year indicated eating the meaty fillets from fish in Grand Lake was safe, but not the fish organs where the toxin can build up.
"But these studies were not done on fish that were living in water with these high toxin levels," Pierce said. "The fillets may be fine if you take out the organs, but we're not as confident saying this now because these levels are so high."
Pierce said Monday's water samples were taken from the east, west and Grand Lake St. Marys State Park Campground beaches. There were thick algae scums in all the areas sampled, she said.
A call to veterinary clinics around the lake showed no pets have been treated for illness related to algae toxins.
In recent weeks, state and federal officials have discussed short- and long-term solutions for ridding the shallow, 13,000-acre man-made lake of the algae, including applying alum. Alum would cause the algae and nutrient particulates to coalesce and drop, according to an Ohio EPA study. The study recommends testing alum in small areas, but notes applying it to the entire lake would cost millions of dollars.
Planktothrix caused the state to issue the lake's first water quality advisory in May 2009, but people only were warned to avoid contact with the water and not swallow it. The toxin level last year tested at 40 to 80 ppb at its peak. The advisory was lifted in April after toxins were nearly undectable.
"This is hurting a lot of people around the lake and they're losing their business," said Craig Morton, manager of the local state park. "I hope they can get the alum pilot study done and then do a whole-lake application yet this fall ... because this thing is killing the area."
Morton said new, temporary water quality advisory signs went up Friday at the beaches, marinas, bait shops and other areas. Permanent signs likely will be erected next week.
For additional information, go to www.epa.ohio.gov/pic/glsm_algae.aspx.
For information on algal toxins' danger to pets and livestock, go to www.epa.ohio.gov/LinkClick.aspx?fileticket=UFRe5bxCasU%3d&tabid=4659