Saturday, July 24th, 2010
Charlson continues to impress behind wheel
By Mike Ernst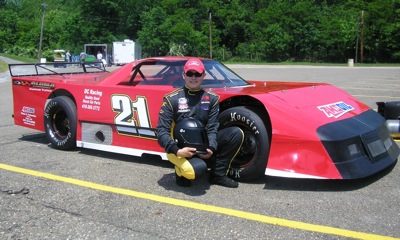 New Bremen native Drew Charlson has enjoyed a lot of success in his racing career.
He won more than 150 go-kart races, battled for a United State Auto Club (USAC) national championship and now finds himself racing in an ultra-fast, asphalt late model in the Main Event Racing Series. Charlson is also hoping for a start in an Automobile Racing Club of America (ARCA) event before the end of the 2010 racing season.
What makes these accomplishments even more impressive is the fact that Charlson is a month away from the start of his senior year of high school and has accomplished all this before his 18th birthday, which is in February.
"My first race was at Willowdell Raceway in a go-kart when I was six years old," Charlson said. "I loved it right from the start and won some races right off the bat."
Charlson raced the go-karts through 2006 and enjoyed success, not just on the local and state level, but also competing in national karting events throughout the country. He won 17 different track, state and regional go-kart points championships and finished second in points competing nationally with the World Karting Association.
Many of the 150 wins have come against some of the top go-kart competition found anywhere in the country. He won the prestigious indoor event "The Rumble In The Ft. Wayne Coliseum" at the age of 12, which is a record that still stands. He won the Lawrenceburg Fall Classic kart race three consecutive years in addition to many other impressive crowns through the years.
"We had a lot of success in the go-karts against some really good competition," his father, crew chief and kart/car owner Andy said. "But when he turned 13, we decided to move up to midgets."
In 2006, Drew Charlson got behind the wheel of a USAC-sanctioned Kenyon Midget. The series is an open wheel division which is a popular training ground for young drivers looking for a seat in a national USAC midget or sprint car.
His initial National level midget start with a Kenyon midget came back at the Ft. Wayne Coliseum at age 13 against, not only the Kenyon midget cars, but also the midgets and stars that compete nationally with the national USAC Midget tour and several other top drivers including NASCAR star Tony Stewart.
Charlson ran much of the 50-lap main event in the top three before a late bump knocked him from the groove and back to his sixth-place finish.
"Racing like that against that competition really gave him a ton of confidence that he could do this," Andy said of Drew's initial National Indoor midget start. "It also put his name out there as a young driver to keep an eye on for a lot of car owners and sponsors."
Charlson won five races competing throughout the Midwest in the 2008 USAC Kenyon Midget Development Series. Charlson led the point standings throughout much of the season before falling by just a handful of points to another rising star, Caleb Armstrong.
During the season, Drew, at just age 15, got his first taste of driving a stock cars as he ran more than 900 practice laps at different short tracks with ARCA owner/driver Todd Bowsher as coach.
"At Toledo, I practiced at speeds that would have qualified me in the top 15 of the Toledo ARCA race and I really think I could have gone faster with new tires and a fresh motor," Charlson said.
In 2009 at age 16, the Charlson's decided to purchase an asphalt late model and compete in the Main Event Racing Series. The MERS is home to some of the best asphalt, short-track drivers in the state and the Midwest. Despite not going to victory lane, Charlson's rookie season was impressive as he won a pole, picked up a pair of top-five finishes and had seven top-10 runs in 12 series events. He eventually finished ninth in the season point standings.
"The cars are really fun to drive. They have nearly the same amount of horsepower as a NASCAR car and are considerably lighter," Charlson said of the 2,700 lb. late models compared to the 3,500 lb. NASCAR stock cars.
Prior to this season they purchased a new car that they have nicknamed "misfit" because "it seems something different mechanically has bit us each week."
Charlson was trying to pass veteran Dick Dunlevy, Jr. for second place near the end of the race earlier this year at Kil Kare Raceway in Xenia when the two made contact and crashed. It was a race both father and son think they could have won as they proved they are close to picking up a checkered flag.
Charlson is currently 12th in the series standings, but missed the first race of the year when having mechanical problems during the practice day prior to the event at Angola Motor Speedway in northern Indiana.
"We should have just showed up and gotten the points and then we would be up in the top five or six," Andy Charlson said. "But I don't like to show up at the track unless we think we can win."
The Main Event Racing Series' next race is coming up on August 7th at Shady Bowl Speedway near DeGraff. Last year, Charlson finished third in an outlaw main event at the track and is hopeful that is the night of win number one for sponsors Amsoil and Aluma Trailers.
They have also purchased an ARCA car, and were hopeful of having it ready for last weekend's race at Mansfield Motorsports Park, but now are looking toward to the September event at Toledo Speedway as a possible ARCA debut.
"I would say right now we will be ready for the Toledo race," Andy Charlson said. "But it takes a lot of money and with the way the economy is, a couple of potential sponsors are holding back their money right now. Regardless, I think we will run Toledo one way or another."
As for long-term goals, Drew makes no bones about the fact he wants to race at the highest possible level. He has already interviewed with both Penske Racing and Tommy Baldwin at the former Bill Davis Racing who compete in NASCAR.
"I want to race for a living and the big goal is NASCAR," Drew said. "I want to be the next Kyle Busch. I don't like to finish in second, even in that first National Indoor midget race in Ft. Wayne when everyone was congratulating me, I was upset I didn't finish in the top three."