Thursday, July 29th, 2010
Man ill from toxin in lake
Doctor links sickness to contact with algae-covered pet
By Shelley Grieshop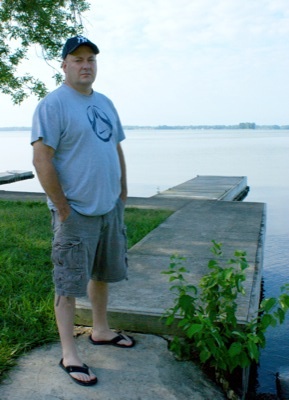 GRAND LAKE - A 43-year-old Celina man is battling a serious neurological illness from contact with the toxic algae in Grand Lake, an infectious disease doctor confirmed Wednesday.
Danny Jenkins, who resides in Highland Park just three houses from the lake's north shore, is reportedly the first person to become seriously ill after exposure to a blue-green algae that first appeared in the lake in June. His symptoms began about two weeks ago after bathing his 12-year-old black Labrador retriever, Casey, who had been swimming in the lake and emerged covered with the algae scum.
Jenkins spent three days in the hospital and returned home Sunday. Casey - a favorite pet of many in the close-knit neighborhood - greeted him but Jenkins knew something was wrong with the dog.
"He came up to me and laid his head on my lap. I could tell he wasn't doing well," he said.
The family brought the dog to a veterinary clinic that day; he died less than three hours later. Officials opted not to autopsy the animal's remains after it was buried.
Jenkins' wife, Laura, and their three children have not had any symptoms. As for Jenkins, he continues to undergo medical tests.
Dr. Wilfred Ellis, an infectious disease specialist serving hospitals in Coldwater and St. Marys, told The Daily Standard he is certain the patient's illness is linked to the toxic algae.
"There is no question in my mind. My report will indicate it's related to the toxin," Ellis said.
Jenkins said he feels good one minute and lousy the next. He has blurred vision in his left eye; his left arm goes numb, feels heavy and is tingly most of the time, he said. The symptoms extend down his left hip to his buttocks area.
"At first I thought I was having a heart attack or a stroke," Jenkins said, adding he's also experienced diarrhea, vomiting and bouts of memory loss.
An athletic guy, he had no prior health problems, he said. Unfortunately, he's been told the neurological damage he's suffered may be irreversible. There is no cure; treatment involves physical therapy and rehabilitation, his doctor said.
Ellis hasn't identified the specific type of algae causing Jenkins' illness, but the epidemeology appears to be consistent with algae toxin, he said.
"The neurological injury is secondary to the toxigenic affects of the algae," Ellis said.
The toxin identified in the lake this summer can cause liver and nerve damage and lead to permanent disability, he added. Ellis described the unique case as "long-term," adding "I don't know how it will end."
Officials at Joint Township District Memorial Hospital in St. Marys notified Ellis last week when Jenkins was admitted. Doctors initially suspected West Nile disease. However, mosquito monitoring in the area ruled out that suspicion, Ellis said.
"We had to identify some sort of vector ... the vector was the dog," he said.
Ellis sternly advised the public to heed the EPA advisories as well as the warnings from the local and state health departments: Do not swim, jump in or in any way splash lake water onto yourself because the toxins can be absorbed into the skin; do not consume any fish caught in the lake; and do not go boating in it.
The Ohio Department of Health, which also is monitoring Jenkins' condition, has received approximately 20 calls in recent weeks from people suffering from headaches, rashes and other minor illnesses after contact with the lake water, according to spokeswoman Jen House.
Jenkins sat on his porch Wednesday afternoon and looked at the pile of large rocks surrounding his mailbox. Over the years, Casey had retrieved each of them after neighborhood children threw them into the lake from a nearby pier, he said.
"The kids also used to put sticks in his mouth and hold onto them as he'd lead them through the water out to the pier. Heck, every day he'd follow those kids to the school bus. He knew everybody and they knew him," he said. "I can't replace that dog."
He rubbed his hand across a sea of needle marks on his arm where blood has been drawn for various medical tests. Quietly, he reminisced about growing up just two houses away from his current home. He proudly dubbed himself a "lake rat."
It's been a tough summer. His mother, Joanne Jenkins, who lived next door, passed away three weeks ago at the age of 67. His grandmother also died recently and now his own health is in jeopardy. He's missed several weeks of work at his job at Parker-Hannifin in St. Marys and isn't sure when he'll be able to return, he said.
The frustration was evident in his voice.
"They've got to do something about this lake," he said. "They've got to quit pointing fingers at each other and do something."

No toxins in Celina drinking water:
Celina's treated drinking water is tested weekly and remains free of algae toxins, information from the Ohio EPA shows.
The city's sole source of drinking water is Grand Lake, which has been in the spotlight for months due to excessive blue-green algae blooms. Two types of algae are causing nerve and liver toxins in the water, and the state has issued an advisory warning people to not go in the lake, even in watercraft, and to not eat the fish.
Mike Sudman, superintendent of the Celina Water Treatment Plant, said if Celina's water contained toxins, there would be a major public notification via television and newspaper.
"We have a very complicated treatment process that is handling the toxins as they enter the water plant and we sample once a week to verify that this is happening," he said. "It's good as it leaves the plant."
For information on algal toxins' danger to pets and livestock, go to www.epa.ohio.gov/LinkClick.aspx?fileticket=UFRe5bxCasU=&tabid=4659.
For updated algae toxin levels from Grand Lake, go to http://www.epa.ohio.gov/pic/glsm_algae.aspx. The most up to date results should be posted Friday.

Governor's Cup Regatta pending:
Celina Governor's Cup Regatta co-chair Alan Baskett says he is "playing the waiting game" in a decision whether or not to put on two days of hydroplane racing Aug. 28 and 29 on Grand Lake.
"We've not canceled it," he said this morning. "We're still working toward the event, but it depends on the condition of the lake itself."
Baskett also said the racing committee is waiting to hear from the Ohio Department of Natural Resources in Columbus on whether they plan to support the event and provide employees to help as in past years.
"We depend on them heavily for security in the racing course, and they have not made that commitment yet," he said.
According to Baskett, racing sponsors have stepped up and want to see the event go on as usual.
The race committee has been meeting weekly and meets this evening, he said.