Thursday, July 8th, 2010
Offensive fireworks in Grand Lake win
By Ryan Hines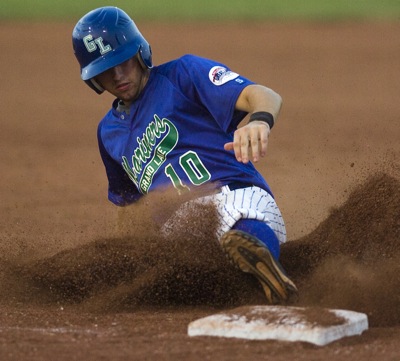 CELINA - The Grand Lake Mariners set season-high marks for hits and runs on Wednesday night while producing the most-lopsided win of the year in the Great Lakes Summer Collegiate League.
Grand Lake (10-11) belted 18 hits in an 18-2 drubbing of the Xenia Scouts (8-14) at Jim Hoess Field. In a stark contrast, Grand Lake had only three hits just 24 hours earlier in a 10-1 loss to Hamilton.
"It's nice to come back and have some offensive fireworks after our three-hit day yesterday in Hamilton," said Grand Lake first-year manager Joe Marker. "We hit the whole way through the lineup and that was nice to see."
The Mariners' previous high-water marks for hits and runs came in two separate contests. Grand Lake scored 10 runs against Hamilton on June 29 and collected a season-best 14 hits against Southern Ohio on June 20.
"Tonight we found holes and put big innings together," said Ryan Brenner, the Mariners' offensive catalyst from the leadoff position who contributed two hits and four runs scored. "We only had three hits in our last game, but we came out and swung the bats well tonight."
The offensive numbers were sparkling throughout the Grand Lake batting order as six different Mariners had multi-hit games.
"I think that we have a good offensive team and tonight we were able to put it all together," said Grand Lake shortstop Sam Picchiotti, who was one of the Mariners' offensive leaders with three hits, four RBI and three runs scored.
Cameron Stykemain had four hits and four RBI while Cory Klenke (two runs scored) matched Picchiotti with three hits apiece.
"We came out focused tonight and swung at better pitches and the big offensive numbers were the end result," said Klenke, a Coldwater High School graduate.
Parkway grad Jensen Painter and Ryan Schlater added two hits apiece and it was Painter that got the Mariners' offense started with a mammoth solo home run in the first inning. With two outs in the first inning, Xenia starting pitcher Cory Popham grooved a fastball and Painter hit a no-doubt blast to left-centerfield.
Painter's home run seemed to spark the offensive onslaught with the Mariners scoring six runs in the second inning for a 7-0 advantage. Stykemain had a two-run single while Brenner and Picchiotti each had RBI hits to highlight the second inning for Grand Lake.
Grand Lake went scoreless in the third and fourth innings, but came back strong with four runs in the fifth inning and then another six-run outing in the sixth frame. Kevin Bower had a three-run double in sixth inning as the Mariners were out in front 17-2. Stykemain capped his four-hit day with an RBI single in the seventh inning that closed out the Mariners' scoring.
"I really liked the way we kept playing hard the whole game after getting the early lead. We never really let up on offense," said Marker.
Lost in all the Grand Lake offense was another solid outing on the mound by St. Henry native Nick Bruns. The Mariners' righthander pitched the first 5 1/3 innings and struck out six to improve to 4-0 this summer.
"Nick Bruns did what he has done the last few times out and that is to give us some strong innings on the mound," said Marker. "He battled out there and got a lot of run support."
Adam Beach, Andrew Carpenter and Ryan Schlater combined to throw 3 2/3 innings of scoreless relief. Carpenter (infielder) and Schlater (the catcher for the first eight innings) were getting their first action on the mound this season.
Position players were pitching and pitchers were hitting on both sides by the time this laugher concluded.
Grand Lake has a chance to even its season ledger at 11-11 tonight when Delaware makes the trip to Jim Hoess Field.
NOTE: Painter, Brenner and Glass were selected to play in the GLSCL All-Star Game on Wednesday.