Thursday, August 5th, 2010
LIA seeks mandatory septic tank inspections
By Shelley Grieshop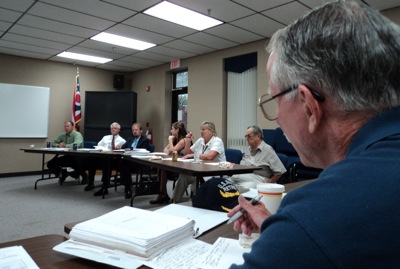 MERCER COUNTY - A member of the Lake Improvement Association wants health officials to require mandatory septic tank inspections for properties in the Grand Lake watershed.
Tom Rampe formally proposed the action during the monthly meeting of the Mercer County-Celina City Health Department on Wednesday. He believes inspections conducted on all septic tanks older than five years would help clean up the lake. He also suggested further inspections on a regular basis.
The board took no action on the request. It was noted, however, that failing septic systems total just 1.8 percent of the overall lake pollution problem, according to a state study on the lake.
Rampe has made the request to board members before. He suggests property owners hire licensed inspectors to perform the task. He also suggests health officials use tax records to eliminate from the inspection list property owners who are connected to a central sewage system.
"I believe we tried to assess that a few years ago to find out how many there were," board president Diane Lefeld said.
Sanitarian Michelle Kimmel said the health department's current focus is on education "as directed by the governor."
"We've been in contact with ODH (Ohio Department of Health) for ideas on how to address the issue," Kimmel said.
Her goal is to provide the public with information they need about proper sewage treatment, and the repair and replacement of failing septic systems, she said, admitting the problem won't be fixed overnight.
County health commissioner Dr. Philip Masser said the sewage system issue is important, but not as critical as others such as the amount of agriculture runoff polluting the lake. He believes officials must develop a solid plan built around priorities.
"... it all has to be part of a well-organized master plan," Masser said.
Kimmel and others spoke about the status of the ongoing Marion Township Sewer System project and how it will help eliminate the problem of sewage waste in the lake watershed.
Grant funding for eligible homeowners needing sewage system repair/replacement is still available, the sanitarians said. Anyone interested is asked to call the county's soil and water agency at 419-586-3289. More funds for sewage system upgrades likely will be available in the future due to the state and federal government's interest in the lake's deteriorating condition, officials said.
In other business, board members:
• Approved a 30-day sanitary sewer connection order for property at 6844 Janet Ave., Celina. The foreclosed property is now owned by First Financial Bank and is the last one in the Menchhofer Woods subdivision to be connected to the county's sewer system.
• Learned a medication pick-up day is being planned for Sept. 25 in the county. The health department is teaming up with the sheriff's office to help residents dispose of medications. Details will be released in coming weeks, officials said.
• Held an executive session to discuss various personnel issues. Following the session, board members approved hiring Deb Scheer as a full-time preparedness planner effective Sept. 7. Her annual salary was set at $45,000. Scheer, a communicable disease nurse, has been working for the health department on a part-time basis.
• Learned next month's meeting is set for noon Sept. 8.