Monday, August 16th, 2010
Sapp edges Bohn for PBA win in Coldwater
By Gary R. Rasberry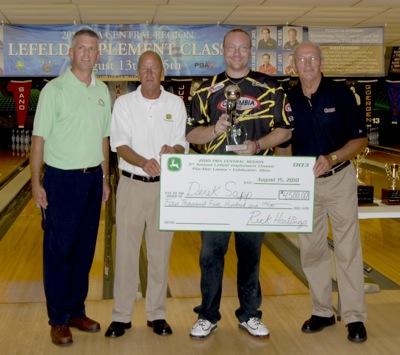 COLDWATER - The championship match of the 2010 Lefeld Implement Classic was a down-to-the-wire dandy, and the buildup to the final game was just as exciting.
Derek Sapp earned his fifth Professional Bowlers Association regional championship, beating Parker Bohn III, 206-203, to earn the $4,500 first-place check and the trophy in the third annual event at Pla-Mor Lanes in Coldwater.
"This is a title I really wanted," said Sapp. "Especially after how I bowled today. It'd be hard to lead and lose this. This tournament is special. I bowl it every year and I will bowl it no matter what. I would not miss this for anything."
The fact that Bohn, a PBA Hall of Famer, was playing for a championship was almost as big a story.
Bohn's start to the tournament on Saturday was dreadful; he rolled a 120 in his first game.
"After my very first game, I honestly said to myself 'It can only get better,'" said Bohn, who earned a $2,600 check for finishing as the runner-up. "That was by far the worst start I have ever had for a PBA event of any nature."
Despite the poor start, Bohn snuck in the final group of 16 with the final advancement spot, finishing seven pins ahead of the 17th-place finisher.
On Sunday morning, Bohn put together a 9-3 record and it tied with Sapp and Ronnie Russell for most wins in match play. But Bohn needed a big game to get around Carleton Chambers and advance with the fifth and final spot for to the stepladder finals.
What Bohn came up with was a 236 to sneak past Chambers and make the finals.
"As the tournament went on, at least qualifying for me, I bowled 240 in the last game and had a small chance to make match play when I got done. Lo and behold, I qualified 16th. Then I rode that all the way and didn't get to the top five until the last ball was thrown in the 12th game of match play."
From there, Bohn moved up the ladder, beating Steve Jaros, 201-191, and then downing Jeff Fehr, 224-164. In the semifinals, Bohn needed a double - two straight strikes - in the 10th frame to beat Russell and Bohn came through with a 211-203 win to face off against Sapp.
The matchup came down to the wire as the bowlers traded strikes and spares. Bohn got a bit of an advantage, getting the turkey - three straight strikes - in frames 5-7, but rolled a seven-spare in the eighth frame. Sapp rebounded with two strikes in frames 8-9, then started the 10th with an eight-spare to get the extra ball, rolling a strike to get to 206.
Bohn had a chance to win, needing two strikes and at least a four in the 10th. Bohn got the strike on his first roll, but the good luck waned with an eight on the next roll. Bohn wrapped up to get the spare, but Sapp had the win.
"He's a Hall of Famer for a reason," said Sapp of Bohn. "When he stepped up and doubled to beat Ronnie, I wasn't expecting anything less. I expected him to double to beat me when I gave him the chance, but he didn't. Sometimes it's better to be lucky than good.
"I had one big game (on the weekend), but I stayed very consistent in most of my matches today. The key for me was I never looked at the standings. Somebody asked in the 10th game where I was at and I said I was plus-whatever. I had no idea what place I was in. I looked after we were done and I guess I led after the fifth or sixth game. That helped me a lot because I didn't worry where I was at. I just worried about bowling the next game."
Bohn was complimentary of Sapp in defeat.
"Derek bowled a clean game, bowled a 206," said Bohn. "Clean games usually win tournaments. Hat's off to him, I had an opportunity. Got the first one (strike). Didn't quite get up for the second one. ... I was a cat with nine lives. I just hoped I had one more (life) going into the last game."
Both bowlers enjoyed the week at Coldwater, which started Thursday with a charity softball game and won't wrap up until Tuesday with a youth clinic at Pla-Mor.
"How can you say enough? You really can't say enough about everything that went on here," said Bohn. "Rick and Linus, the entire Hartings family do so much for this... what I call Small Town USA. When they bring the greatest bowlers in the world, they have really truly brought some of the greatest athletes that have rolled a bowling ball down a lane."
"This weekend would have been joyful if I finished last," said Sapp, who pitched in Thursday's PBA Stars vs. Eldora Racers game. "Just what the tournament means, what we raise money for (the WOHSBC Scholarship fund as well as money for the MDA in auctioning off the jerseys). There's not too many events like this. I said, besides winning a national tour stop, this (tournament) is one I wanted to win."