Wednesday, August 18th, 2010
More questions than answers
Residents attend meeting to learn about $3 million facility
By William Kincaid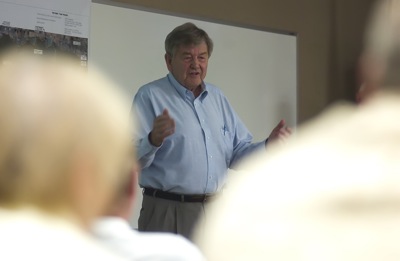 CELINA - City and county officials, farmers and concerned citizens asked many questions Tuesday about a proposed private manure digester to be located near Celina. Most went unanswered.
The conference room of the central service building was packed for the two-hour meeting. A major hurdle in the discussion was the lack of a specified site for the proposed plant.
Andy Tangeman, president of Optional Energy Partners of Florida, said he could not provide all the details of his proposed operation until a location is selected. Tangeman told the newspaper Monday he estimates 1 acre of land would be needed for the estimated $3 million facility.
Two of the possible locations discussed over recent months are on county land -on Fleetfoot Road near state Route 29 and land south of Montezuma. A third location, the intersection of U.S. 127 and Brown Road, also has been mentioned.
However, Mike Paulus, the lead voice of opposition on Tuesday night, said a Mercer County commissioner told him the county does not intend to lease or sell land for the project. Paulus, whose mother owns land near Brown Road, would not disclose the name of the commissioner when asked by the newspaper.
Two other meeting attendees also said a county commissioner told them the same thing.
Mercer County commissioner Bob Nuding had no comment on the issue when contacted this morning. None of the commissioners were present at Tuesday's meeting.
Tangeman told the newspaper this week that he spoke with commissioners a few years ago about the idea for a biomass digester. He said they directed him to Celina Planning and Community Development Director Kent Bryan.
"We've looked at multiple areas, and we still are," Bryan said, when discussion of location became acrimonious.
Bryan said he began talking to county commissioners three years ago about using county land on Fleetfoot Road for a site to place dredged lake material when there was talk of an algae digester. Asked if the project would include both a manure digester and a dredging operation, Tangeman said he would like to have both, but gave no definitive answer.
One farmer questioned why the plant would be located so close to Celina instead of farther south in the watershed where much of the manure is located.
A proposal by Optional Energy Partners would have the city purchase 1 megawatt of electricity from the company and electric lines would have to be extended from Celina to the plant. The company may pay for the extension depending on negotiations, Bryan said.
"If they're going to pay for it, what difference does it make?" Paulus asked in regards to the location of the plant.
Bryan responded that it has to make financial sense to both the city and the private company.
Another man said farmers may be more inclined to participate if the plant was closer to their farms.
"It's so site specific," Tangeman said in regards to a question about how much it would cost farmers to ship their manure to his plant.
According to information provided to Bryan, such a plant would take 5,000 dairy cows and 100,000 gallons of manure a day to produce 1 megawatt, which would necessitate 13 to 14 tanker trucks. Tangeman has said his plant would begin operations using swine manure.
There also were questions of increased traffic, perception of odor and declining property values.
Attendee Theresa Howick said until a person has actually visited a digester, they can't say whether it smells or not.
A few men in the room were angered with those comments, as one attendee called them irresponsible, explaining that the perception of odor does make a difference.
Tangeman said his operation would be enclosed, preventing any odors. Tangeman also added that his previous comment to the newspaper about starting construction by the end of September probably was optimistic, explaining that it may start later.
Bryan said he foresees multiple manure facilities from multiple companies developing in this area in the next 10 years because of the high concentration of manure.
Celina councilman Mike Sovinski said the only item council would vote on is whether to purchase 1 megawatt of electricity. No legislation regarding that matter has been presented to council.