Friday, August 20th, 2010
Daughter, mother now share grand champion title
By Eric Adams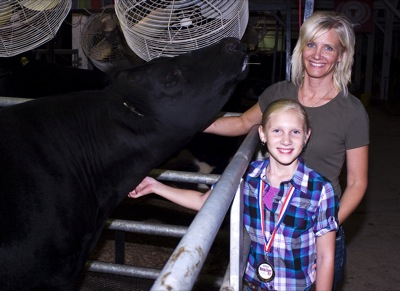 CELINA - The Mercer County fair is teeming with tradition, and this year the Platfoot family of Celina became a part of it.
Their legacy began in 1980 when Sheri Platfoot raised the Mercer County grand champion steer at the age of 10. Now, 30 years later, her 9-year-old daughter Hailey has accomplished the same feat.
Shri Platfoot said she started raising steer when she was only 7, and that her father, Jim Rentz of Coldwater, had been part of a breeding family as well. When asked if the fair preparation process had changed since she was a kid, Platfoot said "a lot."
"(Hailey) started getting her steer ready in early June, just after Memorial Day," Platfoot said, adding she never began preparations that early when she was showing.
Hailey spent many hours during the summer grooming, cleaning and simulating wintry conditions for the steer.
"You have to keep them in a big air-conditioned room (about 16-by-18 feet) with fans going, from morning till night" her mother said.
Those frigid conditions ensure the steer will grow a thick coat of fur despite searing summer temperatures. Platfoot said judges used to be concerned only about a steer's leg fur, but they now prefer a substantial full body coat. With thicker coats comes a more taxing grooming process during the week of the fair.
"They need to be rinsed morning and night, two to three times a day," she said. "It's by far the most involved fair project."
Hailey agreed this project was the biggest responsibility she'd ever assumed. It also was her first fair project.
"She was scared at first," Platfoot said of her bashful daughter. "But she got better with each showing."
Despite all the hard work involved, Hailey said the fair had been a fun experience and she plans to continue showing steer.
Platfoot said she is proud of her daughter's accomplishments this year and also glad to see her meet a few new friends.
"I think that (meeting new people) is the best part of the fair," Platfoot said as her daughter nodded and smiled.