Friday, August 27th, 2010
All local school districts receive high marks
Celina earns top rating; Minster repeats highest rank on state report card
By William Kincaid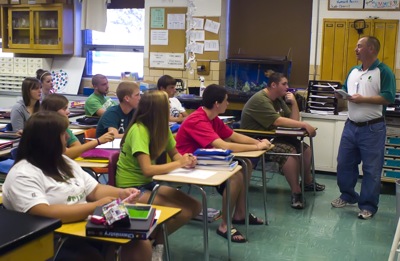 CELINA - Every school district in the local area received a rating of excellent or better on the 2009-2010 report cards issued by the Ohio Department of Education (ODE) today.
Celina and Minster school districts obtained the ultimate rating of excellent with distinction, while Coldwater, Fort Recovery, Marion Local, Parkway, St. Henry, New Bremen and St. Marys received excellent ratings.
"This is big for us," Celina Superintendent Matt Miller said. "Obviously we're thrilled by the news.
Celina schools - which Miller said hasn't obtained an excellent rating in about a decade, let alone the top score - moved up two spots, from effective to excellent with distinction.
"I'm proud of how hard our students have worked over the last several years," Miller said. "Obviously, without the hard work and dedication of our teachers and staff, this wouldn't be possible."
Every year, administrators evaluate the district's academic state and focus on areas of weakness, Miller said, adding that the district will certainly celebrate being one of the top schools in the area.
"This is something our community should be celebrating," he said, pointing out that many in the district have known that Celina has a great education system, but now it's finally getting recognition from Columbus and the ODE.
Minster schools received the ranking of excellent with distinction for a second consecutive year.
"We're absolutely thrilled," Minster superintendent Gayl Ray said. "It really comes by the hard work and dedication of all our teachers and our building administrators and making sure kids get what they need, when they need it and having the necessary skills and knowledge to do well on those state assessments."
She also praised parents, whom she said are really concerned about their children.
"They work with them in the evening on their reading and on their math skills - so it's really a team effort of parents and great teachers and great administrators," she added.
Parkway schools was elevated from effective to excellent this year.
"We're just very happy," Parkway Superintendent Greg Puthoff said.
Puthoff praised the efforts of school board members, teachers, parents and students.
"We really worked hard to do what we needed to do as a district," he said.
Puthoff said administrators and teachers have collected data over the last three years which helped them discover patterns and bring change.
"You really got to look at it and study it," he said about the tedious process. "Really, to start making fundamental changes, you need to see three years of data."
Since coming to Parkway six years ago - first as a principal and now as a superintendent - Puthoff said it's been his goal for the district to achieve an excellent designation.
"Now that we've become an excellent district, the goal is to remain an excellent district," he said.
Puthoff said he hopes the school's new status will bring people into the community.
District reports cards are based on four measures of performance.
There are 26 state indicators based on test results, attendance rates and graduate rates, as well a performance index reflecting the achievement of every student enrolled for the full academic year.
A value-added rating based on the progress the district has made with its students since the previous school year, and Adequate Yearly Progress (AYP), a federal mandate holding schools accountable in the areas of reading and mathematics for students in subgroups, such as ethnic and racial minorities, economically disadvantaged or students with disabilities, also are used.
Ratings range from academic emergency to excellent with distinction.
According to the ODE, nearly 88 percent of school districts and more than 68 percent of school buildings received ratings of effective or higher on this year's report cards.
"Ohio saw the percentage of districts achieving a rating of effective or higher increase from 85 percent in 2008-2009," an ODE press release states. "Eighty-one districts and 305 school buildings earned the rating of excellent with distinction."
To review each district's report card, visit www.reportcard.ohio.gov.

State report cards:
School Rating Standards met of 26
Celina Excellent with Distinction 25
Coldwater Excellent 26
Fort Recovery Excellent 26
Marion Excellent 26
Parkway Excellent 25
St. Henry Excellent 26
Minster Excellent with Distinction 26
New Bremen Excellent 26
St. Marys Excellent 25