Saturday, August 28th, 2010
St. Marys rallies for win with two late TDs
By Mark Ruschau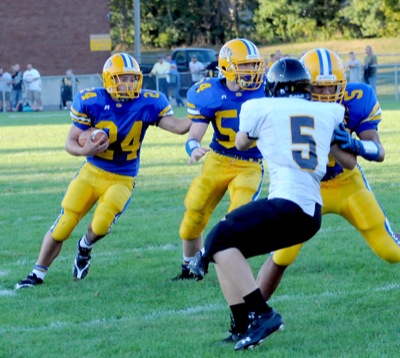 ST. MARYS - The St. Marys Roughriders overcame a sluggish three quarters of football and an injury to top running back Kyle Puschel to open the season with a win.
St. Marys got a great game on the ground by Puschel's replacement, sophomore Dustin Fisher, and some late-games heroics scoring twice in the final seven and a half minutes to defeat the Sidney Yellow Jackets 13-7 on Friday at Skip Baughman Stadium.
Trailing 7-0 midway through the final period, St. Marys received a break when Sidney was called for fair-catch interference, giving the Roughriders the ball at their own 46-yard line. A carry for five yards by Dustin Fisher and a 13-yard rumble by Seth Springer moved the ball to the Sidney 34.
At this point, the drive almost self-destructed as a two-yard loss by Fisher, an illegal procedure penalty and a one-yard run by Mitchell Newbauer left the Roughriders with a third-and-18 situation.
St. Marys was able to keep the drive alive as Newbauer gained eight yards on third down and then Sidney was called for pass interference on fourth down, which moved the ball to the 18-yard line.
Fisher covered the final 18 yards on two carries, with the touchdown coming from 14 yards away to tie the game at 7-7 after the PAT kick by Tyler Albert with 7:20 left in the game.
On the ensuing series, Sidney moved the ball to a first down at its own 44-yard line after an 11-yard run by Devonte Chambers. St. Marys' defense then stood tall, stopping R.J. Heins on fourth down at the Sidney 49.
With the ball near midfield, St. Marys moved to a first down at the 32-yard line after a seven-yard run by Fisher and a 10-yard scamper by Newbauer. Two more totes by Fisher covering 15 yards gave the Roughriders a first down at the 17. On second-and-eight, Fisher capped the St. Marys comeback with a 15-yard dash into the end zone with 37 seconds left.
Fisher ended the game with 121 yards on 16 carries in relief of Puschel.
"That fourth quarter told a lot about our kids and about their character," said St. Marys second-year coach Mark Hollars. "We talked all week about this game was going to come to imposing your will on the game and we overcame some adversity early and we put ourselves in a hole but we never panicked and we stepped up.
"Our offensive line stepped up tonight and our running backs, Dustin Fisher and Tre Sherman, really stepped up as well," continued Hollars. "You can look at those two scores and they were great but our defense did a great job of keeping us in the game while the offense was struggling and that was important as well."
While Hollars was relieved with the victory, Sidney coach Dan Cairns was left wondering about what might of been.
"We had a lot of players going both ways and over half the team that was on the field at the end of the game was not on the field at anytime last season and I think we showed our inexperience there in the fourth quarter," said Cairns. "We played hard, but we are so young that I really do not think that this young group knows what it takes to dig down deep and win a game like this.
"There were just a few plays, that if they went the other way, the game may have been different," continued Cairns. "It was a game of inches and unfortunately they came out on top."
St. Marys opens Western Buckeye League play next week, hitting the road to face Elida.