Saturday, September 4th, 2010
Get to work
Some will still labor on Labor Day
By Nancy Allen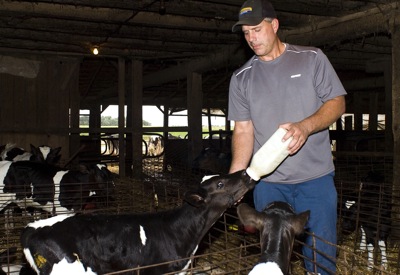 Many people associate Labor Day with a day off work, family cookouts and plenty of rest and relaxation.
But for some, their jobs won't permit them to take the day off on the U.S. holiday honoring laborers.
Larry Schmitmeyer is a farmer who lives west of Coldwater. His days start at 4 a.m. and sometimes don't end until the sun goes down - seven days a week, year round. He cares for 90 milk cows, 120 replacement heifers and 65 steers. He has to feed the animals every day and milk the cows twice a day. He also raises his own grain to feed the animals and sells the rest.
Schmitmeyer said he'll likely spend Labor Day filling other farmers' silos with corn silage, custom work he does on the side. He'll also spend four to five hours milking and feeding at his own farm.
He said help from his dad, John, and a hired hand are a godsend when he needs time off. He knows he's lucky.
"There are some guys who can't get away, but it's like anything else, you got to get away once in awhile," he said.
When on vacation, he can sleep in. He can't remember the last time he did that at home.
He said he sometimes feels envious on holidays when others are enjoying a day off, but can't imagine doing anything else.
"I was raised on a dairy farm and don't know any different," he said. "Sleeping in on weekends, I never did."
For Mercer County Sheriff's Office 911 dispatcher Leah Cramer, Labor Day could have new meaning. She is scheduled to work, that is if she doesn't go into labor. She is due to have her second child on Sunday. The deputies constantly tell her she can't have the baby at work, she said.
Jokes aside, Cramer said working holidays is just part of the job. She guesses she's worked almost every one during her eight years as a dispatcher.
"Holidays are actually pretty quiet," she said. "It's the days leading up to holidays that get hectic."
Cramer said this may be due to people traveling to and from holiday gatherings. Holidays associated with alcohol consumption, such as New Year's and July 4, can keep dispatchers busy though, she added.
"A lot of times your family may be at a get together and you have to leave early or get there late because of work and you wish you could be enjoying yourself too," Cramer said. "But we have a purpose and that's the way my career and life is. I accept that and I enjoy it."
In addition to emergency responders, those in health care also are needed 24/7. Illness and accidents don't take vacation.
Patrice Grieshop has been a nurse for 25 years, 20 of those at Joint Township District Memorial Hospital, St. Marys. Like Schmitmeyer and Cramer, she works Monday.
She said there are times when she'd rather not be working on a holiday, but overall really doesn't mind because she's done it so many years. She said her family works around her schedule.
"One nice thing is when you work a holiday your family doesn't expect you to bring anything," she said. "They say don't worry about it, you have to work."
The pace at the hospital is usually slower at the holidays because health care providers try to get patients home for the holidays. The nurses and other staff make it fun by dressing in nurses smocks that match the holiday and bringing in food for carry-ins. If a patient's diet allows, they get some of the goodies as well.
She works in the transitional care unit with mostly elderly patients.
"One year we wore stockings and Santa Claus hats," Grieshop said. "They may have a niece or a nephew and no one else so for that day we are their family and we try to make it the best for them."
For those who will be traveling this Labor Day weekend, Ohio's roadways could be more dangerous. AAA says 91 percent of travelers in Ohio plan to drive to their destinations this year, a 10.3 percent increase from last year. This translates into a higher chance for traffic accidents.
The Ohio Department of Transportation (ODOT) advises motorists to plan alternate routes and allow additional travel time, especially in road construction zones. Drivers need to leave distance between vehicles, reduce speed and stay alert.
Up-to-date traffic information in Ohio, including weather, road conditions and work zones, can be found 24 hours a day at
http://www.buckeyetraffic.org/reporting/sectionSelection.aspx
.
Labor Day history, origins:
Labor Day, observed annually the first Monday in September, was created in the United States by the organized labor movement. It is a national tribute to the contributions workers have made to the strength, prosperity and well-being of the country, according to information from the Department of Labor.
It is unclear who first proposed the holiday. Some records show that Peter J. McGuire, general secretary of the Brotherhood of Carpenters and Joiners and a cofounder of the American Federation of Labor, was first to suggest the day to honor those "who from rude nature have delved and carved all the grandeur we behold."
Others believe that Matthew Maguire, a machinist, not Peter McGuire, founded the holiday. Recent research seems to support the contention that Matthew Maguire proposed the holiday in 1882
while serving as secretary of the Central Labor Union in New York.
The Central Labor Union adopted a Labor Day proposal and appointed a committee to plan a demonstration and picnic on Sept. 5, 1882, in New York City. The union held its second Labor Day a year later, and in 1884, the first Monday in September was selected as the holiday. The Central Labor Union urged similar organizations to follow New York's example.
The first governmental recognition came through municipal ordinances passed in 1885 and 1886. By 1894, 23 states had adopted the holiday in honor of workers, and on June 28 of that year, Congress passed an act making the first Monday in September of each year a legal holiday.
- Nancy Allen