Monday, September 13th, 2010
Defense keys OSU's win over Miami
By Gary R. Rasberry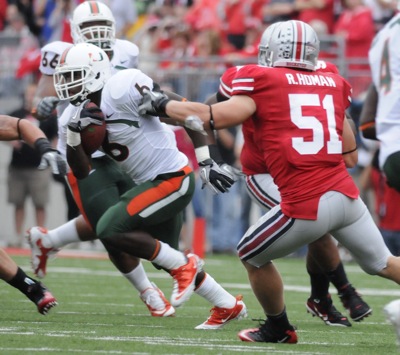 COLUMBUS - As has been the case for most of the years under head coach Jim Tressel, Ohio State led with its defense.
The unit dubbed "The Silver Bullets" curtailed the University of Miami offense to help the second-ranked Buckeyes defeat the 13th-ranked Hurricanes 36-24 in the teams' first meeting since the Buckeyes beat the Hurricanes in the 2002 Fiesta Bowl to take the national championship.
The capacity crowd at Ohio Stadium saw the Buckeyes defense pick off Miami quarterback Jacory Harris four times, twice by Chimdi Chekwa. Cameron Heyward and Nathan Williams each had the other interceptions with the Buckeyes turning the interceptions into 20 points..
Of the three Hurricanes touchdowns, only one came against the OSU defense. Miami twice scored on special teams. One was an 88-yard kickoff return by Lamar Miller and the other was a 79-yard punt return by Travis Benjamin.
"We knew coming into the game that we had to affect him (Harris) and cause turnovers," said OSU senior linebacker and Coldwater graduate Ross Homan, who led the team with 10 tackles. "I think we did a good job. The D-line, with some of the stunts we had going at him, kind of forced him into some bad situations and we took the opportunity to get the interception.
"Jacory is a great quarterback. He's a huge challenge for us. He really made plays where there wasn't any plays," continued Homan of Harris, who was 22-of-39 for 232 yards. "They have playmakers all around him. ... Their O-line is great. We did a great job of containing him."
"I think Jacory keeps the game rolling," said senior defensive end Cameron Heyward. "I think we did a good job staying poised and trying to get after it."
The Buckeye defense this season has only allowed one touchdown through two games.
"Defensively, I mean, we flew around and our guys up front are relentless and those linebackers are active and the DBs will hit you even if you might catch a few on them, but they'll hit you," said Ohio State head coach Jim Tressel. "And they did a heck of a job against a very talented team."
Miami led 10-3 before the defense shut down the Hurricanes. Terrelle Pryor hit Brandon Saine for a touchdown pass to tie the game, then after a Devin Barclay 41-yard field goal and a Chekwa interception, Daniel "Boom" Herron punched one in on the second play of the series to make it 20-10 midway though the second.