Friday, September 17th, 2010
Celina's impressive streak snapped
Bulldogs pushed to four games before beating rival Roughriders
By Ryan Hines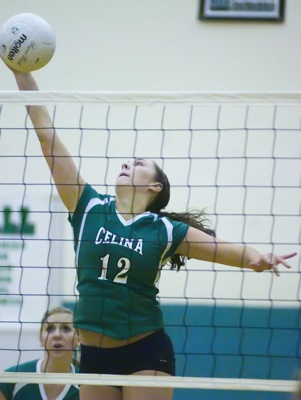 CELINA - The streak is over, but that doesn't mean that it wasn't a successful Thursday night for the Celina volleyball team.
St. Marys handed Celina its first loss in a Western Buckeye League set in over two years, but the Bulldogs still left the Intermediate School with a 25-20, 25-17, 24-26 and 25-13 win in the Grand Lake rivalry matchup.
The Bulldogs (8-3) are now one of two teams left in the WBL with unblemished league records as Celina and Ottawa-Glandorf stand at 3-0. St. Marys drops out of a first-place tie with the Bulldogs and Titans with a record of 7-5 (2-1 WBL).
A two-plus year string of beating WBL foes in three games was impressive while it lasted, but Celina head coach Carolyn Dammeyer almost feels relief that the streak is over.
"It's almost to our benefit because I think that the girls were starting to feel a little pressure in keeping that streak alive," said Dammeyer. "St. Marys has a nice team that plays good defense. We played flat-footed in the third game and let our lead slip away. A win is a win as far as I'm concerned."
Celina middle-hitter and senior leader Erin Dorsten was just happy to pick up a WBL victory over the rival Roughriders.
"I don't feel disappointed having lost a game to a WBL team, just happy to come away with a win against a good team," said Dorsten, who led Celina with 14 kills and eight blocks. "It doesn't matter how many games it takes when you beat your rival, as long as you beat them."
Early in game one, it was a game of streaks. Celina jumped out to a 7-2 lead behind the hitting of Morgan Weininger, but St. Marys rallied back to grab a 20-18 lead, thanks to a some strong play at the net by the Roughriders' Jenny Brown.
A Tara Staugler kill gave Celina a sideout and the Bulldogs rolled from there. Abbey Zacharias served an ace and Lizz Carr blasted home a kill before St. Marys errors ended the match. The Roughriders ended game one with four straight hitting errors.
"The first game we were tied at 20-20, but then we have a few hitting errors in a row and it really hurt us," said St. Marys head coach Tricia Rosenbeck. "It's frustrating when I know that we can play with good teams, and we showed that, but it's the consistency that is lacking right now."
Celina rode the momentum of game one into the second game as the Bulldogs led wire-to-wire in an eight-point win.
The Bulldogs looked in position to make it another three-game WBL sweep in game three with a late 23-19 lead, but Celina began to make uncharacteristic errors as St. Marys came charging back.
Back-to-back hitting errors by Celina pulled St. Marys to within two at 23-21 and then Brown hammered home a kill and made a stuff block to tie the game at 23-all.
An Angie Fisher kill momentarily stopped the Roughriders momentum, but Brown blasted another kill to tie the game at 24-24 before Celina made back-to-back hitting errors to cap the St. Marys victory.
The loss in game three seemed to spark the Bulldogs as the Green and White rode Dorsten's hot hand to a 12-point win in game four.
Dorsten had nine kills in the fourth game.
"I tried to help lead our team with my play and I think the girls did a good job of feeding me the ball and I was able to put the ball away," said Dorsten.
"Erin doesn't like to lose and she led the way for us in the fourth game," said Dammeyer. "She made good decisions when she took her swings and pumped up our girls. Fish (Celina setter Angie Fisher) kept feeding her the ball and she kept putting it away."
Rosenbeck was impressed with the way Dorsten played in game four.
"She had some great swings in the front row and made good decisions on tipping the ball and the placement," said Rosenbeck. "She helped take us out of what we wanted to do."