Monday, September 20th, 2010
Thompson grateful for chance to play vs. OSU
By Gary R. Rasberry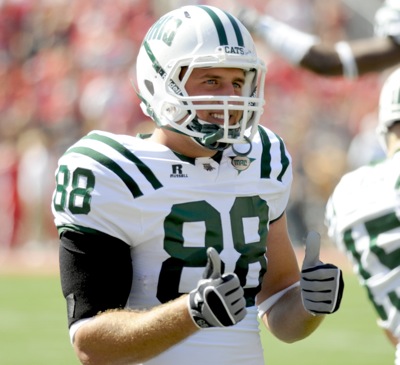 COLUMBUS - Jordan Thompson has found a home in Athens.
The former Parkway football standout has converted from an all-Midwest Athletic Conference quarterback/linebacker into a tight end at the collegiate level.
Now Thompson is in his second year starting for Ohio University and made his 17th straight start on Saturday as the Bobcats traveled to Columbus to face The Ohio State University.
While Saturday's game against the Buckeyes turned out to be a rough one for the Bobcats, falling 43-7 to the second-ranked team in the nation, Thompson was glad for the opportunity to play in front of the 105,075 in attendance at Ohio Stadium.
"It was cool," said Thompson outside the visiting team media room at Ohio State. "I led the team out onto the field. It's a neat experience. It's one of those once-in-a-lifetime opportunity things. To have the opportunity to come up here and play, I'm grateful for that."
The conversion from QB in high school to tight end in college was tough, but Thompson was fortunate to get some extra time to make the position change.
"It was a big transition. My freshman year helped out that I red-shirted that first year. I had 10 good months of learning from other guys," said Thompson.
Last year, Thompson played in all 14 games for Ohio and made seven catches for 109 yards as the Bobcats went 9-5 and played in the Little Cesars Bowl in Detroit.
"Last year was fun. Definitely making it to the MAC championship game and the bowl game, that was just extra practice time," said Thompson. "We had the whole month of December practicing. Definitely helps out."
This year, the Bobcats have struggled in the passing portion of their game. Thompson has caught just one pass this season, going for 12 yards coming into the Buckeye game.
With Ohio quarterbacks Phil Bates and Boo Jackson struggling, going just 9-of-17 with two interceptions against OSU, Thompson was used more for blocking purposes.
Afterward, Thompson, like his teammates in post-game comments, kept positive.
"We play one game at a time," said Thompson, who recorded a tackle after a Bobcat interception. "We'll go back (Sunday) and start looking at Marshall films. This game came and went. We can't dwell, we go to the next one and get ready for next week."
Saturday also allowed Thompson to renew pleasantries with fellow Mercer Countians Ross Homan, Adam Homan and Tony Harlamert (all three Coldwater High School grads).
"I got to talk a little to (Ross) and Adam after the game," said Thompson. "Adam came up against us on a punt. He tried to block it and I got a hit on him. It is neat because it's guys you hear about all the time in high school and to play against them again, it's a neat opportunity."