Wednesday, September 22nd, 2010
Lake Campus dean bans part of display
By William Kincaid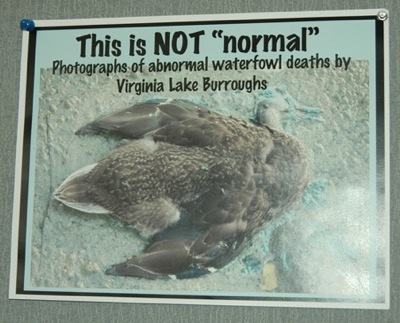 CELINA - A photo exhibit at Wright State University-Lake Campus showing dead waterfowl in Grand Lake has been toned down at the request of the top campus official.
Retired teacher and photographer Virginia Lake Burroughs of Highland Park put on display the photos and accompanying commentary in the campus library/learning center on Sept. 10. Four days later, interim dean Bonnie Mathies asked her to remove the commentary.
Burroughs said Tuesday she was shocked and disappointed that her commentary, excerpts from the newspaper and narratives from lake residents, was ordered to be removed.
Mathies said she didn't want to "fan the flames of controversy." She also said she feels the pictures speak for themselves.
Much of Burroughs' commentary questioned how "normal" the waterfowl deaths that occurred in the lake this summer really were. Pictures show waterfowl coated in thick algae scum.
"No testing was done on any of the dead waterfowl; ODNR told residents it was 'normal botulism' - but if they didn't test, how did they know?" Burroughs wrote in her artist's statement, which also was taken down. "And we who live on the lake know that there's nothing 'normal' about the large number of dead waterfowl this year or the way they died."
Burroughs said the exhibit was put together to show how abnormal the deaths were, to create awareness and pay tribute to those creatures.
Grand Lake suffered this summer from massive toxic algae blooms that led the state to issue a no contact with the water advisory. Several residents were concerned with dead waterfowl, some seen struggling in the thick green algae. When The Daily Standard questioned the deaths, state officials reported waterfowl numbers were normal and many of the deaths were due to a form of botulism.
Burroughs said Mathies gave her permission to put up the exhibit, but then in an e-mail asked her to remove the commentary immediately, as some people called it propaganda.
"I don't understand how it was called propaganda," Burroughs said, adding that her material did not point a finger at anybody.
Mathies responded that Burroughs asked for the opportunity to exhibit her photographs, but did not request anything in terms of commentary. She added that Burroughs' work is wonderful - presenting compelling pictures of the lake's condition - but only reveals one perspective.
"We're trying to be neutral. We're trying to facilitate a good solution," Mathies said.
The learning center/library posted the following the statement near the exhibit: "Wright State University-Lake Campus, along with all area residents, is seeking a solution to issues involving Grand Lake St. Marys and its ecosystem. Pursuant to that, we take a neutral position regarding the causes of challenges to the ecosystem and ultimate remedies to this unfortunate situation, seeking a resolution of the matter at the earliest possible date."
Learning center director Alex Pittman agreed with Mathies' position, saying "We're just looking for solutions, and we're not editorializing at the campus in any way."
Mathies, who said she gave Burroughs what she asked for - a place to display her photos - took responsibility for having items removed.
"It was not the university. It was me. I had asked for that," she said.
Mathies said the campus tries to facilitate the work of artists and photographers when it can.
Burroughs said she is disappointed that her commentary was not allowed to be displayed in a college atmosphere where critical thinking should be encouraged.
"It should get people to think and talk," she said.
Burroughs' exhibit can be viewed at the campus' learning center/library through Nov. 19. Hours are 9 a.m.-6 p.m. Mondays through Thursdays; 9 a.m.-5 p.m. Fridays; and 9 a.m.-2 p.m. Saturdays.
An artist reception will be held 1-4 p.m. Sunday at the learning center.