Friday, October 8th, 2010
Minster sweeps team championships
Lions Cross Country Invitational
By Gary R. Rasberry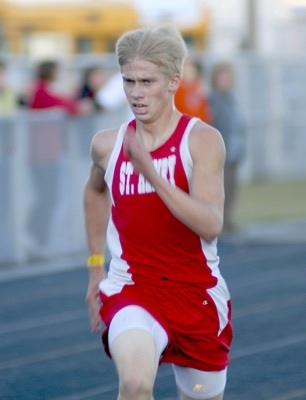 Compiled by Gary R. Rasberry

Next week's Midwest Athletic Conference cross country meet got a possible preview of things to come as the MAC teams were in Coldwater on Thursday for the annual Lions Invitational.
The Minster boys and girls swept the high school titles. The Wildcat girls edged Coldwater, 51-53, for first place with Versailles the nearest competitor in third with 91 points.
The Minster boys finished with 79 points for the win with Troy second with 113. St. Henry, Coldwater and Versailles took third through fifth with 121, 133 and 161 points.
In the girls race, it came down to the Wildcats' pack work over the Cavaliers. Minster placed all five of its scoring runners in the top 16. Coldwater placed four of the five in the top 15, with the top two finishers - Christina Seas in second and Veronica Bruns in fifth - ahead of Minster's top two Averie Bornhorst (fourth) and Hannah Butler (seventh). The key was Minster's next three going ninth, 15th and 16th while Coldwater's next three went 10th, 13th and 23rd.
The individual race win went to defending Division III state champ Tammy Berger of Versailles, who crossed in 18:19, 10 seconds ahead of Coldwater's Seas.
The boys race came down to the stretch run as Versailles' Sam Prakel dueled with Coldwater's Mike Seas. Prakel came across the finish line first in 15:46.60, just two seconds ahead of Seas. Francis Slonkosky paced Minster with a fourth-place finish while Mitchell Schulze led St. Henry with a fifth-place finish.
Minster made it a clean sweep on the day in capturing both the junior high boys and girls meets. Coldwater's Sarah Kanney won the junior high girls race while Troy Schultz of Troy won the boys race.
The MAC meet will take place in Coldwater next Thursday. The junior high girls start the day at 5 p.m. with the junior high boys at 5:30. The varsity girls take off at 6 p.m. with the varsity boys wrapping up the day at 6:30 p.m.