Monday, October 11th, 2010
Clues abound this month at St. Marys library
By Janie Southard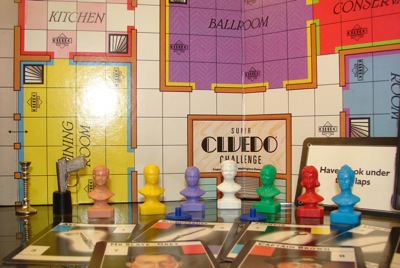 ST. MARYS - What?! Murder?! Who did it?! Could it have been Colonel Mustard, in the library, with the candlestick?
Those words are the object of the Hasbrow board game Clue in which players assume a character to discover who, where and how the perpetual victim (John Boddy in the U.S. game or David Black in the U.K. version) was murdered.
A local fan has more than 20 Clue games in his collection, some of which are on display at the St. Marys library during October.
"Clue originated in Great Britain in 1948 and was called Cluedo - and still is," said Jay Miley of St. Marys, who has a couple dozen Clue and Cluedo games in his collection, including one of the original U.S. Clue games from 1949.
Miley began playing Clue with his older sisters when he was 8 years old.
"I doubt I ever won because my sisters were in their teens back then. I guess I started collecting the games when I saw some old ones available on eBay," he said. "And Clue (boards and pieces) has changed a lot over the years. A lot of games are almost always the same."
He retrieved almost all his games on eBay for "not a whole lot of money," he said. He recalled buying the original American version, circa 1949, for about $10. He doesn't collect too much now, but would like to acquire the original 1948 British Cluedo.
Cluedo (clue-dough) was invented by Anthony E. Pratt, a solicitor's assistant in Birmingham, England, in 1943. It was his wife who designed the board, which is made up of various rooms in an English manor house. By 1948, it was made available to the public through Waddington's Games of Leeds, England.
Cluedo is a pun on a traditional game overseas called Ludo. Pratt's suggested name was Murder.
When Parker Brothers published the game in America in 1949, they didn't think Americans would get the pun so they changed the name to Clue.
"Ludo is Latin for 'I play,' so Cluedo actually says 'I play Clue,'" said Miley, whose favorite character to play in the game is Mrs. Peacock.
Mrs. Peacock is one of the six remaining characters of the original 10 Pratt designed. The others are Miss Scarlet, Colonel Mustard, Mrs. White, Rev. or Mr. Green and Professor Plum. Those six have a choice of six weapons: a knife, candlestick, revolver, rope, lead pipe or wrench.
Typically the character pieces are plastic and color-coordinated to match the character's name, such as Colonel Mustard is yellow and Miss Scarlet is red. But that's not always the case.
One of Miley's favorite character versions is one of about 1-inch-tall figurines cast in pewter.
With all the characters, weapons and murder locations available, it's a game of great possibilities. In fact, there are a possible 324 solutions to the game, Miley said.