Tuesday, October 12th, 2010
Out of this world
Minster science teacher takes weightless flight
By Margie Wuebker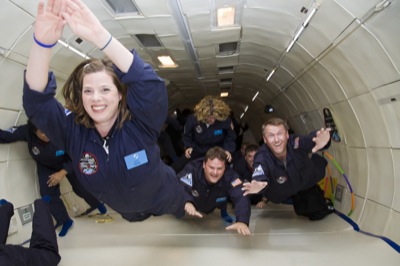 MINSTER - Ted Oldiges had his world turned upside down - literally.
The science teacher at Minster Middle School was one of 30 Ohio instructors chosen to participate in the Weightless Flight of Discovery, a program that included some of the same training astronauts experience while preparing for missions. A highlight for Oldiges was the two-hour weightless flight over Lake Ontario on Sept. 14.
At altitudes of 24,000 to 32,000 feet in dedicated airspace over the lake, trained pilots flew a modified Boeing 727 in a series of maneuvers called parabolas or arcs to achieve the feeling of weightlessness. When the plane reached the top of the arc, it was "pushed over" into a controlled descent that created a temporary zero-gravity environment that lasted about 30 seconds.
The plane flew 15 parabolas - the first simulated the gravity felt on Mars, which is one-third of the earth's force, and the next two recreated gravity felt on the moon, one-sixth of that on earth. This helped participants acclimate to the weightlessness of zero gravity felt on the last 12 parabolas.
"I always wondered what astronauts feel in space," said Oldiges, who applied for the program. "I had far less control than I ever imagined. The biggest challenge involves orienting yourself because you don't have to use as much force to move. After all, you are suspended in the middle of nothing and all motion appears to be in slow motion."
The flight coach told participants, as well as an accompanying camera crew from the "Today Show," that astronauts occasionally feel ill because their minds do not always register what their eyes see.
Oldiges, who likened the flight to "a 100-mile roller coaster ride with lots of ups and downs," said he only felt uncomfortable one time as he concentrated on his own videotaping. Closing his eyes briefly helped the sensation pass, he said.
During the flight, the teachers conducted experiments they developed during a microgravity workshop prior to takeoff. Oldiges' first experiment dealt with dropping a ball at various gravity levels to test the effect on rate of motion. The second involved weighing a stuffed animal on a kitchen scale, with the conclusion showing the object weighed more as G forces increased.
Oldiges, who started a rocketry club last year that went on to compete nationally, said the latest experience also will pay off in his classroom for years to come.
"Instead of just talking about the effects of gravity, I can show students what I learned and play clips of the experience," he added. "What an unbelievable way to connect the theory with the reality of science."
Northrop Grumman and the Zero Gravity Corporation sponsored the zero gravity flights to promote education and student interest in science, technology, engineering and math offerings.