Friday, October 15th, 2010
Celina captures WBL crown for the third-straight season
By Ryan Hines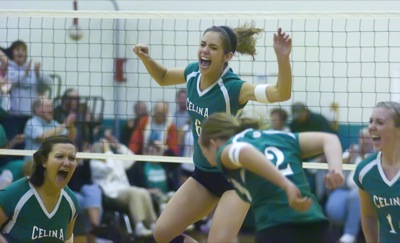 CELINA - The Celina volleyball team has the distinction as the premier program in the Western Buckeye League, and the Bulldogs did nothing to harm that reputation this season.
Celina marched through the WBL undefeated for the third straight season and capped the league slate with a convincing 25-14, 24-26, 25-12 and 25-14 over Ottawa-Glandorf before a raucous Intermediate School crowd.
It's the third straight championship for Celina, which has now won 23 WBL titles in the 35 years it has been a varsity sport in the league. Celina has won nearly 92 percent (290-25) of its matches in its history in the WBL.
Celina's match against O-G (16-5, 8-1 WBL) was a winner-take-all scenario as both teams entered the regular-season finale with unbeaten WBL records. The Bulldogs (17-5, 9-0 WBL) left no doubt as to who was the best in the WBL.
"I think that we played really well in the first, third and fourth games. We were really fired up, and I just wish we could be that fired up for every match," said Celina head coach Carolyn Dammeyer. "Our girls wanted this so bad, and their play and intensity showed it. They have seen past teams go out there and win the league, and they just want to repeat it and keep the success going from year to year."
No one was more ready to play this title-clinching match than Celina's Lizz Carr as the Bulldogs' 6-0 tall middle-hitter was unstoppable during the first set against O-G. Carr dominated at the net on offense and defense throughout all of the first game with nine kills and four blocks.
Carr capped a dominating first game, won by Celina 25-14, with the final five points of the match, four kills and a stuff block.
"I thought that we all played our best match of the season. My team was behind me the whole time, and we did it all together," said Carr, who punctuated her powerful kills by stomping the floor in celebration. "It just feels so good to go out here and get the win and the league title."
O-G, which was trying for its fourth-ever WBL crown, played much better in game two. The Titans built a lead of seven points on two separate occasions during game two, only to see Celina rally back.
A furious Celina rally - sparked by the hitting of Carr, Erin Dorsten and Morgan Weininger - pulled the Bulldogs even with the Titans at 23-23 late in the matc. A Celina serving error put O-G up by one, but the score was quickly tied again on a Carr stuff block. Celina then committed a hitting error before O-G's Sara Basinger secured the win for the Titans with a kill.
O-G's celebration of game two was short-lived as Celina dominated the final two games. The Bulldogs never trailed in the final two games as frustration began to set in for the Titans, who began to question and complain about calls by game officials.
The Titans were unable to slow down Carr (18 kills, 12 blocks), Dorsten (14 kills, eight blocks) and Weininger (10 kills, five blocks) all night long.
"They have a very good team. They seemed to have a girl in the right place at the right time all night," said O-G head coach Ann Ellerbrock. "All their hitters had a nice game and their setter did a good job of getting them the ball."
The best player on the floor was Carr, who fought through an asthma attack in the second game.
"She's a great athlete and she just loves to win. Other than having an asthma attack, she was on with everything that she did," said Dammeyer. "Her play helped open things up for everone else."
"Lizz was on fire tonight. She was great blocking and her hitting was unstoppable," said Dorsten. "She fought through the asthma attack and just played a great match tonight."
Dorsten, who is a three-year starter for the Bulldogs, is thrilled to capture another WBL championship.
"Three years of playing varsity with three league titles and having not lost to a WBL team in three years....It just feels amazing," said Dorsten, the odds-on favorite to be named WBL Volleyball Player of the Year. "It's such an honor for us to be able to go out there and continue the tradition. We lost a lot of good players in the past two years but it just feels great to win it again."
Angie Fisher spread the offense around for Celina and registered 42 assists as Zoe Kriegel and Sara Homan got into the offensive attack with five kills apiece. Kiernon Koontz had 18 digs to pace Celina's back-row players.
Celina is off until Tuesday at 6:15 p.m. when the Bulldogs open the Division II sectional tournament on the road at Lima Senior against Van Wert.