Monday, October 18th, 2010
Shawnee sweeps team titles; Celina in fourth
Western Buckeye League Cross Country Meet
By Gary R. Rasberry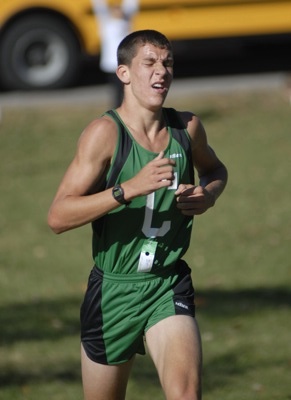 LIMA - The Celina cross country team brought home a pair of fourth-place finishes in the team races of the Western Buckeye League cross country meet at Faurot Park in Lima.
The race was extremely tight in the girls division, as 31 points separated the top four teams. Shawnee took the team title with 45 points, and Van Wert was second at 56. Defiance edged Celina 72-79 for third place while St. Marys finished seventh in the 10-team race with 223 points.
Shawnee made it a clean sweep in the team titles, winning the boys race with 55 points, 44 ahead of runner-up Ottawa-Glandorf with Defiance third (104) and Celina at 109. St. Marys took seventh again in scoring 141 points.
In the girls race, the battle for the individual title came to a showdown between Shawnee's Adrienne Pohl and Van Wert's Andi Foster. Pohl edged Foster at the line by a second, finishing in 20:02. Celina's Hannah Fleck was close behind to take third place in 20:18 while Andrea Bell finished off a strong race in placing fifth to earn one of the 12 first team All-WBL spots. Ashley Coon placed 20th overall to earn special mention All-WBL.
"Hannah ran okay, thought she might have a chance to win." said Celina coach Dan Otten. "Andrea ran her best competitive race ever. Fifth is awesome for her. She finally made a breakthrough race. Ashley, time-wise on this course is slower, but she ran her best of her career, maybe."
Sarah Wilker paced St. Marys with a 40th-place finish while Roughrider teammate Jessica Jeffries finished 45th.
The Celina boys, missing Zach Mitchell due to illness, were able to get two first-team All-WBL selections along with a special mention. Chris Nusbaum stayed close to the front all day and came away with a fifth-place showing. Teammate Derek Pease took home 11th while Cole Mertz was in 15th, just missing the top 12 that earn first-team honors.
"Chris ran the race of his career, taking fifth was unbelievable for him," said Otten. "Derek was throwing up before the race, but he got 11th. Cole Mertz, a freshman, got top 15. Our front three guys and Jared Owens, who staggered through the finish like he always does, ran well and our four guys in the back ran fairly well. We just didn't have enough 'Oomph', the depth, to run five guys."
St. Marys' Nick Durkee earned first team All-WBL honors, finishing 10th. Defiance's Abel Flores cruised to the individual title, finishing in 16:19, 40 seconds ahead of Van Wert's Jared Fleming.
Celina's Jenna Coon brought home the junior high girls two-mile race crown while Bulldog teammate Saisha Elliott finished 10th. St. Marys' Hannah Tobin placed sixth. Celina was third in the team standings behind winner Defiance and Van Wert. St. Marys was sixth.
In the junior high boys race, St. Marys finished third in the team standings behind Van Wert and Shawnee. Roughrider Matthew Schroeder was the only area runner to make the top 10 (finishing 10th). Celina's best finish was Aaron Crites in 24th.
Celina and St. Marys head to Ottawa next Saturday to take part in the Division II district meet as postseason action gets underway.