Tuesday, October 19th, 2010
Coldwater eliminated from postseason
By Gary R. Rasberry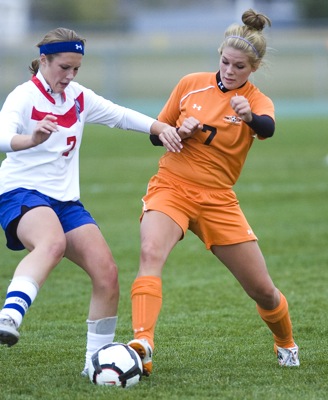 OTTOVILLE - Coldwater looked to have the momentum in the first half of its Division II girls soccer sectional match against Crestview.
The only place it didn't show was on the scoreboard.
The Cavaliers took 14 shots on goal, but Knights keeper Megan Foster made sure nothing got into the net, and the Knights went on to pick up a 2-0 win at Ottoville High School on Monday night.
Crestview (6-10-1) will face another Midwest Athletic Conference team in St. John's in the next round on Wednesday at 6 p.m. Coldwater, in just its second year as a program, ends the season at 5-10-1.
The Cavaliers dominated the first 40 minutes of play, keeping the ball on the attack side for a bulk of the half. Coldwater took 10 shots on goal in the half and Foster made eight saves.
"It's the cruel part of the sport that you take shot after shot, opportunity after opportunity," said Coldwater coach Scott Brinkman. "I told the girls at halftime the only thing that mattered was the scoreboard, and (Crestview) had the lead there. And that's all that matters."
"We got beat by them 2-0 at Coldwater (earlier this season)," said Crestview coach Melissa Mefferd. "I told the girls to get ready because they'll come at us, and they do. They push the ball forward. I have to give them credit for that."
Crestview, meanwhile, took just five shots, but quickly made it count as Riley Guest knocked a pass to Madison Etzler, who dribbled in and put the ball past Cavs keeper Krista Wellman at the 28:15 mark of the first half to put the Knights up 1-0.
The Knights picked up the pace and had more chances on the attack in the second half, outshooting Coldwater 7-3. Wellman made six saves, but could not stop Etzler with 18 1/2 minutes left in the match. Mackenzie Richard passed inside the box to Etzler, who put it into the back of the net to make it 2-0.
"We knew going in that (Etzler) was their best player," said Brinkman. "For us to be successful, we had to contain her. We gave her two opportunities, and she scored. That's what a good player does."
"Our defense held up. Megan Foster (who finished with nine saves) did a great job in goal for us," said Mefferd. "Overall, we played well."
Brinkman knew the second goal was the stopper for his team.
"We've struggled all season scoring goals. Tonight wasn't any different," said Brinkman. "For us to score three goals was pretty unrealistic when it got to 2-0. We were hoping we could maybe tie it up to go to overtime and get fortunate in the shootout. For us to score three goals, that's just not going to happen. We scored four goals once this year and three goals once this year. Our skill level at this point isn't where we can score a bunch of goals."