Wednesday, October 20th, 2010
Indians, Cavaliers open with wins
Division III Volleyball Van Wert Sectional
By Mark Ruschau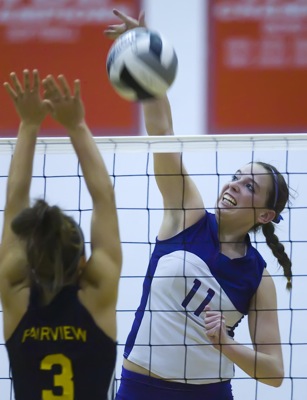 VAN WERT - The Fort Recovery Indians and the Coldwater Cavaliers overcame sluggish play to win their opening round matches in the Division III sectional Tuesday night at Van Wert High School.
In the first match of the night, Fort Recovery rallied from a deep hole in game one and went on to sweep the Fairview Apaches 28-26, 25-19, 25-12.
The Indians will take a 7-15 mark to the lower bracket sectional final on Saturday against Mercer County rival and number one seed Parkway Panthers (17-5) in the first match of the doubleheader with a 3 p.m. start time at Van Wert High School.
In the nightcap, Coldwater used late game rallies in its first two games to defeat the Paulding Panthers 25-17, 25-22, 25-17. The Cavaliers (14-9) advance to the upper bracket sectional finals on Saturday against second-seed Lima Central Catholic.
Fort Recovery 3, Fairview 0
Fairview, entering sectional play with a 4-15 record, took Fort Recovery to the brink in the opening game by taking advantage of sloppy play by the Indians. Fort Recovery committed 13 playing errors and three service errors to help Fairview take a 24-21 lead with the serve. A kill by Olivia Thien kept the Indians in the game at 24-22.
With Kelsey Fiely at the service line, Fort Recovery ran off three points, including kills by Shelby Brunswick and Thien, to take a 25-24 lead.
Fairview tied the game at 25 on an Indian hitting error. Fort Recovery regained the lead, 26-25, on a kill by Shelby Brunswick.
After Fairview tied the game one last time at 26-all on a kill by Sarah Polter, Fort Recovery broke the tie on a kill by Thien, then won the game when a free ball by the Apaches' Miranda Steffes sailed wide.
"I told the girls before the game just to let their hearts on the floor and do not give up playing, no matter what the score. I think that when it came to crunch time, the girls thought they should not be where they were and they stepped up their game," said Fort Recovery coach Diana Rammel. "They decided to get after it and they did, and they were able to pull it out."
Using the momentum from their big win, Fort Recovery cleaned up their play and controlled the last two games. In the final two games the Indians would give Fairview just 18 points on errors.
Fort Recovery got hitting game going in the final two games as the Indians recorded 26 kills divided among six players. Brunswick led the way with 11 kills and two blocks. Thien added seven kills and Fiely added three kills and a block.
"Winning a game like we did made us feel better. (It) made us play better and gave us confidence," said Rammel. "We were a little flat all night long and I told them that at every time out. I told them to just keep playing and keep moving and they just did what they had to do: minimize the mistakes and at this level that is something that you have to do."
Coldwater 3, Paulding 0
Coldwater fell behind early in the first two games and to rally to post the wins. In the first game, the Cavaliers fell behind 6-2 and 8-5 before scoring 13 of the game's 17 points to take control at 18-12.
Paulding closed to within two at 19-17 before Coldwater scored the last five points of the game, keyed by three kills by Erika Hartings.
In the second game, Paulding jumped out to an 8-3 lead behind two kills and a block by Nicole Gebers. Coldwater rallied back by using a 13-7 run to take their first lead of the game, 16-15, on a service winner by Jenae Muhlenkamp. Paulding scored the next five points to retake the lead 19-16.
The Cavaliers rebounded and tied the game at 19 on an ace by Courtney Wellman. The game was tied at 20-20 and 21-21 before a pair of kills by Cavalier Bethany Werling and a kill by Brittanie Niekamp closed out the game.
In game three, Paulding hung tough with Coldwater early as the two teams would be separated by no more than two points. With the score tied at 11, Coldwater scored seven of the next eight points to take an 18-11 lead and the Panthers would come no closer than five the rest of the way.
In his postgame comments, a subdued Coldwater coach Mike Etzler knew that his team dodged a bullet and that all though his squad was able to move on, their play would have to improve to advance in the tournament.
"In tournament play, you just want to win and move on. It does not matter how ugly it is at this point," said Etzler. "We have kind of been getting down early in matches, especially in the first game. In the last five matches we have been down early and we have come back. It kind of concerns you, being down like that, but I knew we could come back.
"In the second game we were just not focused. The positive thing is that we were able to work through things and win the game," continued Etzler. "We just fought through things, staying focused on the things that we needed to do, and when we control the ball like we did when we played well, we can be a good team."