Friday, October 22nd, 2010
Man has dream come true
By Margie Wuebker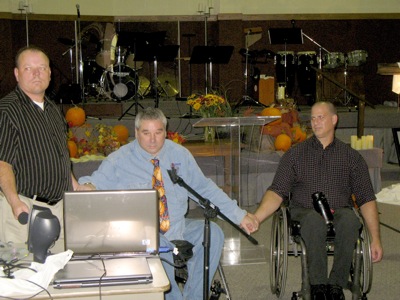 James "Jamie" Stachler stood at a table holding his disc jockey equipment and looked across rows of attendees at Tuesday's Self-Advocacy Conference sponsored by the Mercer County Board of Developmental Disabilities.
Tears glistened in his eyes as he encouraged others dealing with disabilities to pursue dreams and goals despite "rough roads and rocky mountains" in their path.
The 33-year-old St. Henry man shared with the audience at St. John Lutheran Church in Celina how he was diagnosed at the age of 15 months with tuberous sclerosis, a disorder that leaves calcium deposits throughout the body.
"I am very lucky to have a mild case of TS," he said. "I have experienced all types of seizures, but now my seizures are under control. I'm more fortunate than a lot of people here today because I don't need a wheelchair or walker."
Stachler, an optimist by most standards, believes the disability led to opportunities that ultimately prepared him to achieve his dream of starting his own disc jockey business.
He played the song "Don't Laugh at Me" by Mark Wills as part of the presentation, calling it a theme song for everyone dealing with developmental disabilities.
"Don't laugh at me, don't call me names.
Don't get your pleasure from my pain.
In God's eyes we're all the same
One day we'll all have perfect wings."
Stachler brushed tears from his cheek during the refraim and apologized for the display of emotion.
"I've had a hard life ... you know what it's like," he said. "My dream came true and so can yours. It just takes time."
His path took various twists and turns over the years. He enjoyed working in the dietary department at an area nursing home, he said, but eventually left because making ends meet on limited hours was next to impossible. Landing a job at a local factory through a community employment program seemed like the answer to his prayers until the arrival of a new machine resulted in his layoff.
Stachler decided 18 months ago to talk with Cheryl Ann officials about using money from the agency's Individual Resource Option fund set up for clients who opt to work in the community rather than at CA Industries. Approval led to the purchase of needed disc jockey equipment, including a laptop computer for storing music and a complete sound system.
His musical genre runs from classical and blues to rock 'n roll and country, spanning decades from the '40s to present day.
"I don't like heavy metal," he said. "It doesn't have a message or convey feelings like other kinds of music. There are too many cuss words."
He has played at a number of events, including Cheryl Ann functions, engagement parties, a New Year's Eve dance, an alumni tournament and the Wendelin Sports Club. Engagements come via word of mouth, e-mail at jameysjamsdj@gmail.com and telephone (419-953-5083 or 419-678-4514).
His parents provide transportation to and from events because he has no driver's license. They also help with set-up and tear-down.
Cheryl Ann Superintendent Mike Overman lauds Stachler's success in the area of self-advocacy, adding the pendulum for developmentally disabled clients is slowly but surely swinging from total reliance to having a voice in decisions regarding their lives.
"We as a staff had to learn to step back and not speak for them but listen to what they have to say," the superintendent said. "Jamie is an example of someone taking self-advocacy to the next level."
Stachler's future plans include purchasing another laptop and larger speakers and one day getting a place of his own.
"I had a dream of being a disc jockey and it came true," he said. "I love being my own boss, but that doesn't mean one dream is enough."