Saturday, October 23rd, 2010
Winning season at last
Celina rallies for sixth win on late Sutter TD run
By Ryan Hines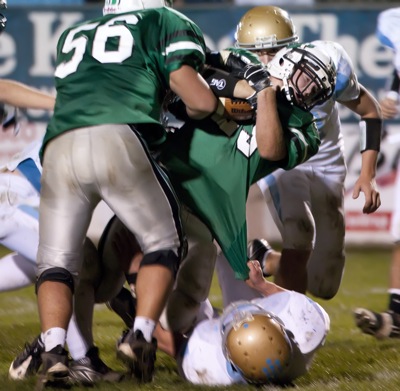 CELINA - Down by one point with 3:47 left on the clock and 91 yards to cover, the Celina football team had a chance to make a statement in the final home game of the season.
Celina was up to the challenge and drove the length of the field with an Andy Sutter touchdown run capping a game-winning drive for a 26-20 victory that gives the Bulldogs their first winning season since 2000.
"It's a big win, no question about it. It has been 10 years since we've had a winning season and I just feel so good for our seniors because they have worked so hard to get to this point," said Celina head coach Jared Rolfes. "We had seniors stepping up and making big plays late in the game with the game on the line and that's what you need from your seniors."
Sutter powered up the middle for a six-yard touchdown to cap an 11-play drive with 19 seconds left on the clock. Sutter took the handoff on a draw play and won a collision with a Bath defender at the two-yard line before churning his way into the end zone.
"I think that everyone stepped up when we needed them too. We had that never-say-die attitude, even when it wasn't going well," said Sutter, who rushed for 80 yards on 20 carries with a pair of fourth-quarter touchdowns. "When I got the ball on that last carry, I just wasn't going to go down, I knew I had to get into the end zone. This is a huge win for our program and it just feels great to have a winning season after the last two years."
Sutter is one of 16 Celina seniors that helped erase the memories of a dismal recent past for Bulldogs football. Many of this year's seniors began their varsity careers as sophomores and suffered through 2-8 and 1-9 seasons before this year's 6-3 (6-2 WBL) mark with one week left to play.
It's shaping up to be an important game next week for Celina on the road at Ottawa-Glandorf as the Bulldogs are still very much still in the race for the Western Buckeye League title and for a berth in the postseason.
"Getting a winning season is a great accomplishment here, because it hasn't been done in 10 years, so it feels pretty special," said Celina senior Kahl Knapke. "We're proud to end that drought, but we still have one more game to play and there are still a lot of things left to play for."
After allowing 123 points in a pair of blowout losses to Kenton and Elida, Celina's defense rebounded in a big way against Bath. Aaron Smith, the WBL's leading rusher on the season with over 1,300 yards, was limited to just 93 yards on 32 carries (2.9 yards per carry) against an aggressive Bulldogs defense.
Celina's defense stood tall in the fourth quarter as the Bulldogs began to mount a comeback. Bath only gained 59 yards of offense in the fourth quarter and had just one first down.
"The last two weeks were pretty humbling and we knew we had to come out better tonight and I think that we were able to do that," said Celina standout linebacker Dylan Cummins. "We kept making stops in the fourth quarter and gave our offense a chance to make a comeback and they did it."
The Bulldogs were down 20-13 in the fourth quarter when it looked like they were primed to tie the score with a quick-scoring drive. Celina had the ball at its own 44-yard line with 7:51 left in the game when Sutter ripped off a 14-yard run and then Bath gave the Bulldogs another 15 yards after a personal foul that gave the home team the ball at the 27-yard line. Sutter then ripped off another 24-yard gain before blasting into the end zone from the three-yard line for a touchdown with 7:21 left on the clock. Braelen Bader's potential game-tying PAT kick was wide left leaving Celina down by point, 20-19.
Bath's ensuing drive ended after one first down and Celina was pinned deep in its own territory at the nine-yard line after a Wildcats punt.
A Braden Billger pass to Shawn Feierstein gave Celina some breathing room with a first down and then Knapke pushed the offense into overdrive with a big play. Knapke ran a curl route for about seven yards, but the Bath defensive back fell down on the play, and Knapke took off for a 45-yard gain to the Wildcats' 31-yard line.
Knapke's ninth catch of the game gave Celina another first down with the ball resting at the 20-yard line with just over a minute left in the game.
Sutter powered through the line for five yards and then Feierstein caught his sixth pass of the night for another Celina first down at the 10-yard line with under a minute to play and the clock rolling.
Sutter ran four yards to the six-yard line and the clock was still running with 24 ticks to play before his six-yard bull-dozing TD run sent the Celina fans into a frenzy.
"Andy did a good job of finally getting our running game going late," said Rolfes. "It was nice to see our guys respond with their backs to the wall late in the game. We just tried to keep it simple on that final drive because we had plenty of time to work with. Kahl's catch was huge and Sutter just had the mind set that he wasn't going to go down. Our kids up front opened a hole and Andy finished it off."
Celina's offense struggled for most of the evening, but got the job done when it counted most. Billger finished the night 19-of-37 passing for 170 yards with one touchdown (seven-yard strike to Knapke in the third quarter) with two interceptions (one of which was returned 26 yards by Nate Heffner for a touchdown). Knapke's nine grabs resulted in a team-high 88 yards and the senior became the third-ever Celina receiver to top 1,000 yards (86 receptions for 1,056 yards) in a season (joining Chad Highley and Brian Knapke). Jalen Knous scored the other Celina TD with a two-yard run in the first quarter to put the Bulldogs on top 7-0.
With a win over O-G on Friday, Celina would have seven wins in a season for the first time since going 10-3 in 1998.